---
---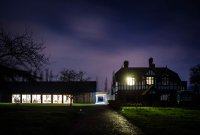 Break out of your routine, learn practices that could transform your life and encounter the Buddhist vision. This is our popular taster event for anyone new to retreats. An immersive weekend of meditation and communal living at our beautiful retreat centre in Suffolk.

We provide an optional return coach from the LBC to Vajrasana, which you can add for an extra £50 when you book. Alternatively you can read about other ways to get to Vajrasana here. The retreat will start with dinner at 7pm on the first day and end at 3pm on the last day.

If there are no places left, you can email contact@lbc.org.uk and ask to be put on a list to be notified if places become available. Please put the name and dates of the retreat in the subject line.
Our retreat centre is in full use, so please note that this means you will be sharing rooms in the accommodation blocks. In order to minimise the risk of Covid-19 on the retreat, we require you to test yourself twice before you come: i) three days before the retreat starts and ii) before leaving home on the day of the retreat. We will be asking for verbal confirmation of your test result before you board the coach or, if you're making your own way there, as you arrive at Vajrasana.