---
---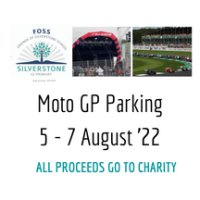 Moto GP Parking 5th - 7th August 2022

Welcome to Silverstone Schools Charity Car Parking!
For the first time we are operating our hugely successful Charity Car Parks for the 2022 Moto GP. We are really looking forward to welcoming Moto GP fans and visitors from across the country to our lovely village!
Prices for 2022 start from £8 and we are offering 1, 2 and 3 day ticket options!
All the profits from GP Parking in Silverstone are used to benefit the local school children and community. In recent years motorsport fans have enabled Friends of Silverstone School (FoSS) to purchase various items (such as PE and playground equipment, laptops and iPads) for the children of Silverstone CE Primary School by using our car parks and facilities. Please see the 'Where your money goes' on our parking website for more information on how you help us help our children.
We have 1 grassed area car park available within the village confines which offers easy access and exit routes to help you avoid the traffic! Our car parks open from 7:00am on Friday, 6.00am on Saturday and Sunday and our parent volunteers will be on site to help with any queries you may have. To check the location of our car parks please see ''Parking Zones' on our website.

During the booking process you will be made aware of our T&C's - please read them carefully before accepting.  In addition to our T&C's please also be mindful of the following:
We are all volunteers juggling work, home and school! If you need to contact us please email silverstoneschoolsparking@hotmail.com we promise to reply as quickly as we can.
All customer details are handled securely on this site and payments are all handled securely via PayPal. Please note you do not need a PayPal account to pay but can check out as a guest using a credit or debit card.
All prices are subject to change without notice.
All prices are exclusive of booking fees.
Overnight parking is not available at the request of our landlords; please respect this

All information relating to your booking (including directions which avoid the one way system) will be contained in your confirmation email which you will receive after payment. If you do not receive this email, please contact us via silverstoneschoolsparking@hotmail.com

Thank you for supporting Friends of Silverstone School. 
Additional information on GP Parking and FoSS is available at our website here.