---
---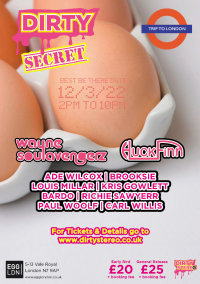 We all like a bit of Dick!!! Well... Dick Wittington, and like the good man himself we are packing our bags for one night only and off to London.
What better venue than Egg club which has just gone through a major refurb and updated sound systems.
We are taking over the loft room which for our usual small and intimate parties is absolutely perfect.
We have our amazing regular DJs such as Huck Finn, Brooksie, Kris Gowlett, Bardo, Paul Woolf and Richie Sawyerr and our guests for this party we have Louis Millar who you will know plays for our friends over at Housework, Ade Wilcox and headlining the party is Wayne Soulavengerz.
So to catch this monumental line up click the link below and grab a ticket.
Comments from the parties we've had so far
"It's like an old skool rave"
"The crowd are so friendly"
"When's the next one?"
Refunds only given if Covid cancels the party.
The venue's management reserves the right to refuse admission. If you're old enough, look the part and act the right way then you'll be welcomed to the club. We encourage people to drink responsibly, so we reserve the right to refuse admission or service to customers who are, or appear to be, intoxicated.