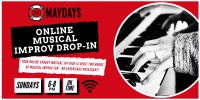 Your Sunday Musical joy ride is here! Two hours of Musical improv fun - no experience necessary!
About this event
Two hours of improvising musical numbers with some of the most experienced teachers on the improv scene. You will have an opportunity to connect with people around the world and share community and laughter through musical improvisation games and scenes.
During these online drop-ins, you'll be introduced to the core skills of melody and lyrics, rhyming and choruses, leading to the ability to create songs on any topic right there. In a supportive and nurturing environment, you'll see how to fit songs into scenes and perform with flair and commitment.
Please note this class will involve some solo singing.
This is a wide ability class, but if you've never done musical improv feel free to contact us at mayday@themaydays.co.uk
These classes are energetic and playful, and each one is different, offering an opportunity to play and grow in challenging times.
Who is it for?
Our online drop-ins are open to anyone from experienced players to absolute beginners. The atmosphere is accessible and non-judgemental while still providing the right level of challenge for those who want to push themselves.
How much are they?
Musical drop-in two-hour classes are £20 / £18 concession (plus booking fee). We offer free places for all online drop-ins and electives in order to make sure that the fun and community of improvisation is available to as many people as possible across the globe.
Free tickets are available to those who are unable to afford them. Option to Buy a place, Give a place - for yourself and a place for someone less able to afford it.

Min 8 participants, max 12.

This Open drop-in runs Sunday evenings 6-8 pm UK Time - please note during June, July, and August, online music drop-ins will be on the first Sunday of the month and then back to weekly sessions from September 4th :)
Open - A class for anyone, regardless of their improv experience. Although more experienced players are of course welcome, the content does not require any prior improv knowledge.
Please note:
– For our musical improv classes on zoom, having a good pair of headphones is the best way to improve your experience.
- Class links are sent once sales close, which is an hour before each class.
– The minimum number of participants to run a class is 8, and with the current situation, we cannot always guarantee we will have enough to run a class. If your drop-in is cancelled, you will be notified about an hour before the class.
– If you have any difficulty with your class link and cannot get into a session, please contact us through @maydaysimprov Facebook messenger, as this is instant and teachers will be checking before class (emails may not reach us in time). 
- Please do not contact individual Maydays team members directly regarding our classes and/or events, for all company queries please contact us via our Facebook page or email us at mayday@themaydays.co.uk