---
---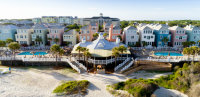 More than ever, those of us who are passionate about higher ed and its mission seek and need to share ideas, inspiration, and innovation—while also stepping back for a moment to reflect, destress, and refresh our perspective. That's what the Institute for Strategic Enrollment Management offers.

The Institute  is a revival of a groundbreaking professional development opportunity, known as the Snowmass Institute, that lasted for over 30 years and shaped the careers of generations of enrollment leaders—not to mention their institutions and the profession. Join us for this extraordinary experience.

Who should attend:
Higher ed professionals in enrollment and those seeking to understand enrollment more in-depth:
Vice Presidents for Enrollment, Chief Enrollment Executives
Associate Vice Presidents for Enrollment
Deans of Enrollment/Admissions
Directors of Admission or Financial Aid
College or University Presidents
Leaders of Strategic Initiatives/Institutional Planning & Effectiveness
Chief Marketing Officers & Vice Presidents of Marketing
Chief Financial Officers
Emerging enrollment leaders

What's different about the Institute:
What is exceptionally unique is the emphasis on mentorship. Experienced enrollment leaders work with attendees in one-on-one sessions and within small groups throughout the week and they stay connected beyond the event.
What you'll gain from attending:
Leave with a Strategic Enrollment Framework
Work with a seasoned mentor
Accelerate your professional learning