---
---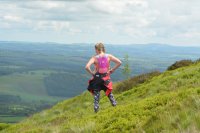 We are passionate about staging fun, inclusive and challenging trail runs.

When we discovered Melrose as part of our Saint Cuthbert's Way Ultra, we have been wanting to put on a great race in this fabulous town.

So we are delighted to be able to offer a challenging half marathon that runs down the Southern Upland Way to Melrose taking you past the Devil's Foot Mark, then for the final bit of trail fun, looping over the Eildon to finish in the centre of Melrose.

Whether you are new to the trails or a regular, come and try this new race for a unique challenge.
We promise you won't regret it.

If your entry includes optional cancellation cover, you will be able to claim a refund of the entry fee, minus cover charge up to 24 hours before event. No refunds will be offered if you do not take the cover. You are able to transfer your place to another runner in the same event, up to 3 weeks before the event.

Race include free coach transfer from Melrose Rugby club to the race start area in Lauder.