---
---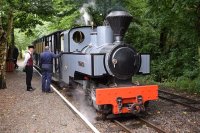 THIS TICKET IS NOT VALID FOR ANY HALLOWEEN OR SANTA SPECIAL TRAINS. (these trains are all pre-booked only)
This is our 2022 advanced discounted ticket for use on any service train with the exception of our Santa Christmas trains. Just show your validated e-ticket either via your mobile or a paper copy to the booking office on day of travel. Ticket valid until cancelled. Once again we have frozen our ticket fares for 2022.
Trains operate every Sunday and Bank Holiday, together with half term and August mid-week Wednesdays. (please check our website for details) from 3rd April  to the 30th October 2022.  Frequent train departures. 
This Discounted Ticket is also valid for All our published event and gala days, providing even more discount compared to our normal day fares.  (Halloween and Santa Trains are NOT included) 
Our Tea Room is open on most operating days serving delicious  Teas, Coffees and Cakes.
Get the latest news from the West Lancs with our newsletter WLLR Newsletter
NHS and KEYWORKERS CAN RECEIVE A FURTHER DISCOUNTED TICKET BY USING OUR DISCOUNT CODE - KEYWORKER. Please bring work ID with you on day of travel.
All are services are intended to be a steam service with at least one of our heritage steam locomotives. On special days or in unplanned circumstances, a heritage diesel may be substituted. 

We reserve the right to change or amend any conditions.

Thank you for supporting the West Lancashire Light Railway Trust. A 100% volunteer organisation, proudly supporting the local Community.