---
---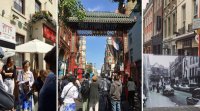 Give someone you care about a special experience - a place on the unique Chinatown Stories community led walking tour. The 2.5 hour experience is guided by one of our specially trained History Champions - a skilled volunteer who loves to share the stories, histories and experiences of Chinatown. Your voucher is valid for 12 months from the date of purchase and will be emailed directly either the recipient or to you to print and give to them.
Here's more information about the fantastic tour experience: Discover the fascinating stories and characters behind this iconic district and gain a whole new perspective on London's Chinatown! Our trained volunteer History Champions can't wait to take you on a journey through this area's complex, nuanced and fascinating evolution.
Did you know that the site of today's Chinatown was converted into hunting grounds by Henry VIII in Tudor England? Or that Ronnie Scott's world-famous jazz club started in Gerrard Street? Where are the oldest established businesses in the area and what do these places show us about the area's development as Chinatown? What's the story behind the first Chinese printing company in the UK? Or the first Chinese chef to be awarded a Michelin star? What does the area reveal about London and world history? And what can it teach us about racism and prejudice? On our Chinatown Stories walking tour, you will hear incredible stories of migration, entrepreneurship, family histories and transformation. The content of the tours is rich and all thoroughly researched and recorded by people who are passionate about the history of this area.
The 2.5hr experience includes a delicious Chinese lunch served family-style, giving you the chance to get to know your guide and learn more.
What makes our tours special?
Chinatown Stories are led for the benefit of the community – all guides are trained volunteers and tickets include donations to three Chinatown charities supporting the neighbourhood.
The 2.5 hour experience includes a family-style lunch.
Tours are in-depth and thoroughly researched – you won't hear these stories anywhere else!
Select your dietary preference for lunch with your tickets. Do let us know at least 24 hours ahead of your tour of any food allergies: info@chinaexchange.uk

Our tours are in English. We can also offer tours in Cantonese and Mandarin for groups of 2 or more. Contact us to make arrangements.

Chinatown Stories: Community-Led Walking Tours is a project led by China Exchange. The initial 2018 pilot was developed in partnership with the Museum of Soho and The Anglo Asiatic Arts and Heritage Alliance (AAAHA). The project has been supported by Chinatown London and Airbnb Experiences. The 2021 edition is supported through the Champion Chinatown Heritage crowdfunding campaign supported by members of the public.