---
---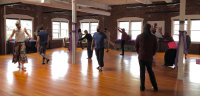 Join us this Sunday morning for in-person ecstatic dance at our NEW INDOOR VENUE in Old Town PDX!

NOTE: Sacred Circle Dance is now a fully COVID vaccinated event.
(We will also continue to stream on Zoom, so if you'd rather join us from home, that will continue to be an option.)
We encourage everyone to continue being mindful of each others safety and health.

Masks must be worn the entire time while you are at the event, by Oregon state mandate.
We are now requiring proof that you are fully COVID vaccinated.


"Fully vaccinated" means that you have received your final vaccination dose of either the two-dose regimen of the Pfizer or Moderna vaccines or one dose of Johnson & Johnson at least 14 days before the date of dance.
Please have your vaccination card (or a clear photo of your vaccination card) with you when you arrive.


Kids are welcome to dance for free. However, because of COVID precautions, please don't bring unvaccinated kids to indoor dance.
We will ask to take your temperature when you arrive, and ask about COVID symptoms or contact with anyone with active COVID.

Please do not share food or drink.


Location: 
PDX Suite Spot
24 NW 2nd Ave, Portland, OR
2nd floor

Plenty of free street parking.
ADA-accessible, ADA restrooms.


Questions: support@sacredcircledance.org, 503-575-9001