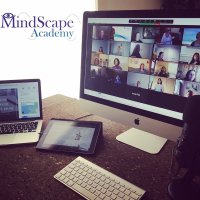 MindScape - Unleash Your Mind
Online Special Via Zoom times suitable for North America and UK/Europe
Friday 4th - Sunday 6th  March 2021
North America PST: 9am-1.30pm, EST: 12pm-4.30pm,  (UK Time: 5pm-9.30pm, Europe 6pm-10.30pm)
We are very excited to be able to offer a unique opportunity for you to learn this 'mind-blowing' system from the comfort of your own home.
Join International Senior MindScape Instructor Andy Spencer, for a mind-blowing online seminar that teaches you to unleash the latent creative, intuitive, and healing powers of your mind.
MindScape is an easy to learn system that will give you the structured framework to rewire your brain and tune in to your own inner wisdom and guidance. A powerful system to reduce the noise of the ego-mind helping you to focus on what's truly right for you at any moment in time. A system to identify and remove the limiting beliefs and fears holding you back, giving you the opportunity to redesign your life, whether your health, wealth, self your relationships, career, or sport.
Details:
Due to the current travel restrictions in place in many parts of the world, the MindScape seminar is now available online.  This is a rare opportunity to take this mind-blowing seminar from the comfort of your own home with London based Senior MindScape Instructor Andy Spencer.  
For the online version, we will be spreading the normal 2-day seminar over a shorter 3 day period which is more suitable for the LIVE and interactive format online via Zoom.
It is NOT a recorded seminar and Live participation is essential. You will require a PC/Mac with a webcam or iPad/tablet and a reliable internet connection.
What is MindScape?
MindScape is a dynamic fun weekend workshop that leads participants to open the powerful, latent intuitive powers of the mind, learning techniques to tap into the resource on demand.

Who is the Facilitator?
Andy Spencer is a Senior MindScape Instructor who has taught MindScape to hundreds of people around the world. He has a professional background, with c.20 years in Corporate Finance and private equity in London, England, and is also an Advanced BodyTalk Practitioner.
How does MindScape work?
The principle of MindScape is a simple but effective one. There is a particular state of mind, the alpha state that is more conducive to creativity and intuition than the normal brain function. This MindScape seminar will teach you an easy proven method to access this alpha state, by slowing the activity of the brain. Renowned geniuses such as Tesla, Edison, Einstein, and Mozart were known to utilize this state to originate their ideas. The Alpha state is a natural state of the mind, that when we provide a structured framework to work in we can open up our creativity and work with our intuition, to expand our horizons.

What are the benefits of using MindScape
You will come away from the seminar with an easy to use structured method of developing the power of your mind on demand. As you continue to practice the benefits of using MindScape include:

Enhances creativity and imagination
Trusting your intuition and finding your own answers
Promotes relaxation and reduces stress
Improves memory and learning ability
Enhance Sports and Arts Performance
Enhance your health
Improvement in relationships
Business Success
Manifest Creative talents
Reprogram your subconscious mind
Removing fears and limiting beliefs
Enhancing all of your 5 senses, not just Visualisation
Manifesting 'heart-based' goals
MindScape is for everyone. 
There really is no limit as to how you can utilize MindScape in your life.  As we 'change our mind', let go of  limiting beliefs, fears and deeply held patterns that do not serve us, it naturally follows that our life starts to change, and move towards one that you would prefer.
Parents
Gain confidence in trusting your instincts of what is right for your child, ahead of the ever-changing bombardment from today's research and experts.  A fantastic method for Mothers to enhance their felt intuitive sense with their babies.
Entrepreneurs
Here's a platform to work with 'your gut feel' and follow your heart and refine your vision.  Successful entrepreneurs somehow intuitively know the 'right path' and don't allow the logical and 'box-ticking' prevalent in much of business culture to block progress.  The world isn't short of logical process people who can help you with your ideas once they are formulated!
Professionals
Creativity and problem solving are a must to advance in business. Gain insights to lead your business to success. Remove those internal limits and fears
Sports Performance
MindScape will provide a platform for full 'Mental rehearsal' of training, practicing, and performing. Are you ready for your Personal best? You can 'Train' even when injured!
Artists, Writers, Inventors, and Musicians
Get 'into the zone' at will. Be inspired to create effortlessly Bring focus and structure to help manifest and deliver your ideas.
Health
MindScape provides an easy method to relax and let go of stress. When our bodies are stressed our immune system and ability to heal can be compromised.
Practitioners
Enhance your ability to access your intuition to enhance your client sessions, and work via distance.
Personal Growth
MindScape will provide a bridge to your subconscious-mind, and when you're ready help you remove those internal limitations and fears.

Testimonials from recent Online MindScape seminars
I could go on about how wonderful the class is in itself, but I do not have the time because it would take hours. Just know that it is a great program that was taught in the right way precisely by the best instructor. JW

"This was such a valuable seminar. The Potential to create and transform one's life, from this one weekend is without limit. The process of MindScape is Easy and LOTS of FUN! Andy gives a very Concise Presentation of the materials needed, a skilled communicator, easy going with a sense of pleasure and fun, he guides you through the process seamlessly and with repeated excursions to my newly created workshop I ended the seminar feeling confident of making those journeys on my own. Did I mention this class was FUN? I HIGHLY Recommend this Seminar with Andy. I am SO Grateful for the experience and so happy with what I have received. " LL  Student, US

I loved the organized manner that Andy presented the material. Really good nuggets of info in the lectures and lots of great practice time. Lovely! Katherine Ebacher, BodyTalk Practitioner and Banker
I absolutely loved the workshop! I was blown away with what we would do with our minds and the possibilities we can achieve in our real lives with this tool. Andy is an amazing teacher and I would highly recommend taking this workshop with him!  Angel Fabul, student US
I have now attended four courses with Andy as an instructor. He is a great trainer, knowledgeable and entertaining.  RS Entrepreneur Australia

As a visual artist, I love that this method of going into the mind is so visual. It provides an effective way to address issues, and it is FUN. Victoria Genberg , Artist
 The entire experience is simply mindblowing.  MindScape has definitely helped me explore my creativity and imagination, developed my intuition and provided me a wider perspective on how I can attempt to engage my right brain.  Such a joy to be learning from Andy Spencer - a wonderful instructor who is knowledgeable and inspiring, definitely the perfect person to be teaching the MindScape course. Joyce Wong Marketing Manager Singapore

Doing Mindscape with Andy has been life changing - I feel more relaxed and able to play with the process, which of course, benefits my outcomes every day.  Thankyou Andy "CM Australia)
It was like relighting a fire in my body for Mindscape. Even after using Mindscape daily for more than 10 years I still learnt so much in class and was able to focus on areas of my Mindscape and life that had lost focus. Thanks Jacquie McIntyre, Integrated Healthcare

MindScape changed my life.  MindScape can be used any time, anywhere, under any circumstance. I believe that repeated use of MindScape will lead to the results I desire to achieve in life, because I've already witnessed my own personal changes within the course of one weekend. I feel more supported, more connected, more creative, more in control, and more inspired about life since taking MindScape. MindScape has taught me the way to access the peace of mind that I had been searching for, but I wasn't sure how to get there.  Vanessa Vincent Musician/Artist
A big thumbs up to Andy Spencer. His enthusiasm and understanding of the infinite possibilities that using Mindscape has to offer is a testament to the power of the mind and how utilizing this modality can open a world of possibilities to anyone who is willing to go within. SM , Reiki Master, US
I've taken Mindscape a few times now and each time I am amazed at what I leave with. Not just a nugget or two, but a whole collection of gems to play with and deepen my personal and professional growth.  Thank you, Andy for helping me find my way back to the incredible power of PLAY!    AC Toronto , Pyschotherpaist
Andy Spencer Sr.MSI, Adv.CBP
Andy is a  Senior Advanced MindScape Instructor, and Advanced BodyTalk Instructor. Andy is a Chartered Accountant with has over 20 years experience in Corporate Finance, and private equity in London, advising and investing in growth companies) and his . He has four children aged 11 to 22, and is based near London, England.
Drawing on his professional business background he has an ability to enthuse students from all backgrounds to tune into and enhance their intuitive abilities in a grounded, professional and fun way. He is passionate about sharing The MindScape System, and training new Instructors around the world.
He has been teaching MindScape for over 10 years and has taught MindScape to 1,000's of students around the globe online and teaching in person seminars in the USA (New York, LA, Seattle, Philadelphia), Canada (Toronto, Vancouver, Manitoba, Saskatoon), Asia (Hong Kong, KL, Bali, Singapore) Australia (Perth, Sydney, Brisbane), New Zealand (Wellington, Auckland) and throughout the UK and Europe (France, Germany, Austria and Switzerland, Ireland).
Andy facilitates his seminars in the English Language but has a team of experienced translators for online and in-person classes in Brazil (Portuguese), France and German language speaking countries.