---
---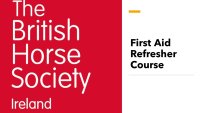 DESCRIPTION
Following the relaxation of COVID restrictions in Northern Ireland we are now able to provide BHS Initial Two Day First Aid Courses at Laurel View Equestrian Centre on the following dates:-
10 January 2022 - 10am to 4.30pm
24 January 2022 - 10am to 4.30pm
25 January 2022 - 10am to 4.30pm
26 January 2022 - 10am to 4.30pm
27 January 2022 - 10am to 4.30pm
7 March 2022 - 10am to 4.30pm
8 March 2022 - 10am to 4.30pm
8 August 2022 - 10am to 4.30pm
9 August 2022 - 10am to 4.30pm
6 September 2022 - 10am to 4.30pm
7 September 2022 - 10am to 4.30pm
31 October 2022 - 10am to 4.30pm
1 November  2022 - 10am to 4.30pm
2 November 2022 - 10am to 4.30pm
3 November 2022  - 10am to 4.30pm

They will be run with a maximum of 6 attendees and all COVID precautions will be in place including one resuscitation dummy per person, aprons, face masks and hand sanitiser.

We plan to we be able to provide lunch and refreshments.
Only book as a Registered BHS Accredited Professional Coach if you are a current and fully paid up BHS Accredited Professional Coach in Northern Ireland. You will already have paid for your first aid course as part of your registration. If you are not currently on the BHS APC register please book as a general participant.