---
Buy tickets
Ticket Type
Price ($)
Fee ($)
Quantity
---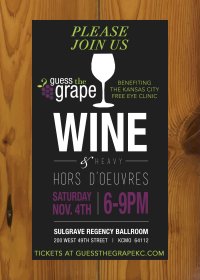 Join us for our 4th annual Guess The Grape, a blind wine tasting benefiting The Kansas City Free Eye Clinic. Featuring an evening of entertainment, delicious food & wine, and silent auction, this event will support the eye care that we provide at no cost to the low-income in Kansas City.
Win Big In Our Golden Ticket Raffle!
This year, win your choice of ANY live auction item by purchasing 1 of 60 Golden Tickets for $100 each. Buy as many as you like but only 60 will be available!
A Peek Into Some of Our Plans for 2018
We want to help even more people get access to sight-saving eye exams and glasses with Kansas City's first ever mobile eye clinic that can reach pockets of need all around our city. This is a dream you can help make a reality.
Growing our services even more means better coordination of the volunteers and fundraising events we throw. Your generosity at Guess The Grape will mean that we can hire our 2nd staff to assist with the number of new people we'll be able to help with our mobile eye clinic.
We'll double down on forging more new relationships with partner social service agencies so we can see our combined efforts really make a difference to the person we're helping. Some of the agencies we already work with are Hope Faith Ministries, Literacy KC, Rose Brooks, Jackson County CASA, the Lions Club, and Sojourner Health Clinic.
About KC Free Eye Clinic

Every year, hundreds of adults rely on us for accessible eye exams, eyeglasses, and ongoing care to do simple things like drive and find employment while new eyes for children help them learn and succeed in school.
Since 2011, KC Free Eye Clinic has helped over 3,000 adults and children get the reliable, compassionate, and professional care they need to restore and protect their sight - the sense people most fear losing.