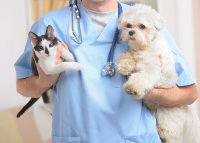 It's important to provide regular, basic wellness services for your pets to protect them from unnecessary illnesses. That's why the Humane Society of Huron Valley Veterinary Clinic offers low-cost vaccinations, wellness testing, and prevention products for all public cats and dogs at our Low Cost Vaccination Clinics.*
This is a fully curbside event to allow for us to help as many animals as we can, safely and as stress-free as possible. Upon your arrival, our staff will collect your pet(s) from your car, bring them into the clinic for administration of services, and return them to you.
*Our Low Cost Vaccination Clinics can be difficult for animals who are nervous, anxious, or aggressive in new or high activity environments, or who don't like to be around other pets or people. Please be advised that if your animal is not treatable/handleable at this event, services may not be able to be provided. Additionally, you may be asked to schedule an Outpatient appointment during our regular business hours so that we can better service your pet.
*Though our Low Cost Vaccination Clinics are appropriate for most dogs and cats, if your pet has previously had an adverse effect in response to vaccination, please call our clinic for an appointment.
Pricing for Low Cost Clinics
For Dogs

Rabies & Distemper combo - $30
Rabies only - $20 (3-year Rabies only given with proof of previous Rabies vaccine)
Distemper with or without Lepto - $20
Leptospirosis only - $15
Bordetella - $20
Canine Influenza Vaccine - $20
Lyme - $25
Heartworm test - $20
24PetWatch Microchip ID - $20
For Cats
Purevax Rabies (1 yr) only - $30
Purevax Rabies (3 yr) only - $65
Purevax Rabies (1 yr) & Distemper combo - $30
Purevax Rabies (3 yr) & Distemper combo - $65
Distemper (FVRCP) only - $20
Purevax Feline Leukemia Vaccine (1 yr) - $30 (Must provide proof of a negative test within the past month)
FeLV/FIV test - $30
24PetWatch Microchip ID - $20
HeartGard Plus as well as Vectra 3D flea and tick topical preventative offered at very low prices, too!

Any boosters needed can be done in a future Low Cost Vaccine Clinic (at our discount price above) or at our full-service veterinary clinic (at our regular prices).

REGISTRATION IS REQUIRED to attend the HSHV Low Cost Vaccine Clinic. A $10 deposit per pet is required. The deposit will be applied to your balance at the LCVC clinic, and is not refundable if you miss or change your appointment . Please register below, and bring your dogs on a non-retractable leash and all cats must be in a carrier.
If you're an HSHV clinic client, we can make the event go even faster for you! HSHV clinic clients, please call 734-662-4365 the week before to receive up-to-date vaccine records via email.

NOTE ABOUT LOW COST VACCINE CLINIC:
State Laws require, in normal circumstances, that a veterinarian physically perform an exam of an animal before providing any medical service, including providing vaccinations or writing prescriptions. However, in certain situations, in particular a Low-Cost Vaccination Clinics (LCVC), these strict requirements are relaxed, allowing us to provide both vaccinations and certain prescriptions (for example, for heartworm treatment) without an exam.
This is important to understand as an LCVC visit does not, by law, meet the criteria for a "veterinary exam", and does not count as one. While, on the day of LCVC we can provide vaccinations or prescriptions for certain medications this is only possible during the LCVC event itself, and these services cannot be provided except during your LCVC appointment.
If your pet needs a full exam, but there are financial issues that make this challenging, please talk to a team member about ways we can help make things work for you and your pet. An exam gives us maximum flexibility to provide any care, service, vaccinations or medications your pet needs.