---
---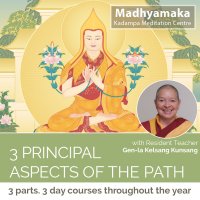 Renunciation – hope and freedom
Renunciation is not about giving up pleasure and desire. It means abandoning the causes of our suffering and problems - and the uncontrolled desires which perpetuate them.
Without renunciation it is impossible to escape from the pains and disappointments of this impure life and all our future lives. It is the key to permanent freedom from suffering and to lasting inner peace and happiness. We lose nothing but false hopes for this life and deceptive expectations.
Gen-la Kunsang will help us to meditate on this unique motivation correctly and how to bring it into our daily activities. In this way we can put our whole life on a liberating trajectory and make it truly meaningful.