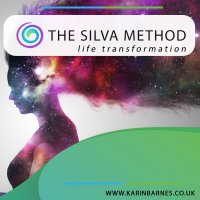 MANIFEST A LIFE OF ABUNDANCE AND PROSPERITY ON ALL LEVELS! -  VIA ZOOM!
Oct 1 - 4 (Sat-Tue) 1pm-5.00pm (London time)
with
Karin Barnes Certified Silva Method Instructor in Great Britain
___________________

The Silva Method has now become one of the most widely used and popular personal growth programs on the planet!
An Advanced Silva Method Workshop for Silva Graduates.
Get all the tools you need to open, create, and receive. It's time to take those day dreams and turn them into reality.
​The Syllabus:
Life Change Exercise,Passive Moment Meditation, Open-eyed Meditation, 2 Minute Zap Meditation, 1 Minute/20 Second Zap Meditation, 10 Second Zap Meditation, Sabotaging Outcomes, Monkey Mind, Tapping Universal Source Energy, Multiplying the Power, Personal Code to Success, Overcoming Obstacles, Creating New Beliefs, Law of Allowance, Choice Points, Becoming a Money Magnet.
___________________
This webinar will be recorded and available for attendees during and up to 1 week after the course.
Please note that to qualify for a certificate of attendance, the student needs to attend a minimum of 3 full sessions.

The course will be presented over 3 half days 1.00pm to 5.00pm (with a 15min break) 


Karin will join this zoom seminar, 15 mins before the start (12.45pm) to allow everyone time to join the meeting and set up.

1) You will need a 13 inch laptop or desktop (the larger, the better)

2) EACH Student needs a separate laptop/desktop (student must not share a computer, as that would prevent them to participate in some of the exercises).

3) Ticket buyers will be supplied a link by email (to enable them to join the webinar) and password a couple of days, before the course. (please, supply valid, unique email for each attendee and also a valid, unique mobile phone number for each attendee.
___________________

For Silva Graduates, with a Silva ID number - Standard single ticket - £300 (400 USD)
Friends and family ticket (group of 2 or more) - £240 (320 USD)
Repeaters of the Advanced Manifesting course - £150 (200 USD) for Silva Graduates who have a certificate for the Silva Manifesting course.
For any questions please phone Karin on 07960544829 or email karin@silvamethod.uk.com
www.karinbarnes.co.uk

"May the rest of your life be the best of your life" Jose Silva