---
---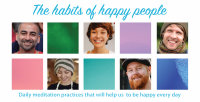 HABITS OF HAPPY PEOPLE - 3 week course
Cultivate positive habits of mind through meditation and develop your inner peace. With mental peace happiness is guaranteed.
We tend to make the attainment of happiness more complicated than it actually is, by believing that we need things such as success, praise, people, status, looks and possessions etc. to achieve it. The reality is that none of these things can give us lasting happiness and depending upon them actually makes our mind prone to anxiety, frustration and disappointment.
On this course we will explore how we can cultivate the happy minds of contentment, gratitude, acceptance and joy. It will include guided meditations to show us how to do this.
Of course one of the best habits we can develop is a daily meditation practice that will help us each day to be happy no matter what life throws at us.

Before you book! 
Find out more about our membership scheme here https://meditateinedinburgh.or...