---
---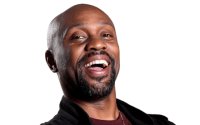 Tony Woods is an original member of Def Comedy Jam and Bad Boys of Comedy. He is also a mentor to Dave Chapelle. His observational humor and laid back comedy will leave you in stitches! 
The Asher Theatre is Myrtle Beach's newest venue to the entertainment scene and showcases the highly acclaimed show: The Man of A Thousand Voices featuring master impressionist and entertainer James Stephens III. You may have seen him on HBO, Showtime, The Tonight Show or many of his national TV appearances. Stephens has a wide range of voices. One minute he's Chris Rock and Lil Wayne, and the next moment he's Bill Clinton and Ronald Reagan. This triple-threat also plays piano like Duke Ellington, trumpet like Louis Armstrong, dances like Sammy Davis Jr. and sings like everybody! A MUST SEE!
Doors open at 6:30PM and show starts at 7pm! Get your tickets now!