---
---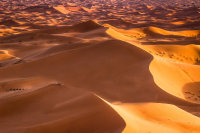 A week in the Sahara Desert with 25 other travelers as we camp in traditional Berber tents under the full moon and make yoga, music & dance
Once again we're heading out into the dunes for a week of storytelling, music and meditation under the desert sky.
We've been running meditation retreats in the Sahara Desert in Morocco since 2010 and they just keep getting better and better. We always knew that people would be overwhelmed by the beauty of the desert and to find time for reflection, to reconsider where their lives were going – what we didn't expect was the almost-instant sense of community that emerged in the desert and the long-lasting friendships that were formed between those who came.
This year we're putting a particular focus on yoga and the joy of dance.
But I'm not a hippie!
Don't worry, the retreat is also a place to learn some aikido, tell travel stories around the fire and make some music with 20 interesting people from around the world. Either way you'll be blown away by the majestic dunes, the brightness of the stars in the desert and the magic of the Sahara.
The desert is the perfect place for transformative experiences on a personal level. Just watching the moon rise at the same time as the sun sets, casting new nuances of shadow over the dunes, watching scarab beetles leave tiny tracks across the sand; it's like being in another world.
If you have any questions or doubts don't hesitate to write to us
Terms & Conditions
We have a no refund policy.