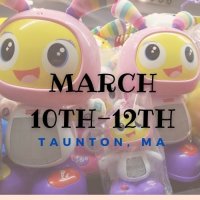 We will be doing appointment shopping on designated days and Walk-in shopping on designated days.
Shopping Appointment Info:
The shopping appointments slots are for 60 minutes and will be 45 minutes of shopping and then 15 minutes to check put and allow us to effectively sanitize and disinfect. We will only be allowing 30 shoppers per appointment.
If you feel like you need more time to shop you may sign up for multiple appointments. If your appointments are booked back-to-back, you will be allowed to shop the first 1:45 hour and checkout during the last 15 minutes (you will not have to check out at the end of your first appointment.) If you are unable to secure back-to-back shopping appointments, you will be required to check out at end of each appointment. No items will be held after the end of a shopping appointment time slot.
Tickets go on sale on February 2nd at 10am!
Tickets must be purchased online to secure a shopper's place and reduce the number of possible no shows. They can be purchased online at our website. Ticket price is $20 per appointment slot. All proceeds from the sale of tickets will be donated to the Food Bank. Tickets are non-refundable.
Walk-In Shopping Info:
On our designated Walk-in shopping . There is no shopping time limits. There is no entry fee no appointment needed.
General Sale Info:
We will be accepting CASH and Credit/Debit Cards during shopping hours.
We will be supplying our "Big Blue Bags" for shopping You may also bring your own shopping bag/tote/laundry basket, but no wagons/strollers are allowed. At check out all purchased items MUST be placed in our white bags and securely closed; large items will have their price tags stamped.

Please stay at least 6 feet away from other shoppers when possible.
No paper receipts will be given. Please tell the cashier prior to beginning your transaction if you need a receipt, so they can email it to you.
All sales are final, and no returns will be accepted for any reason. Please see a team member if you need to inspect an item to ensure it is working properly/all pieces enclosed prior to purchase.
Please follow current CDC guidelines regarding masks.
STROLLER POLICY!!
No Strollers with storage below/Wagons Allowed!!
Location:
Memorial United Methodist Church
Church Hall – Basement Level
176 Somerset Ave (Rte. 138)
Taunton, MA 02780