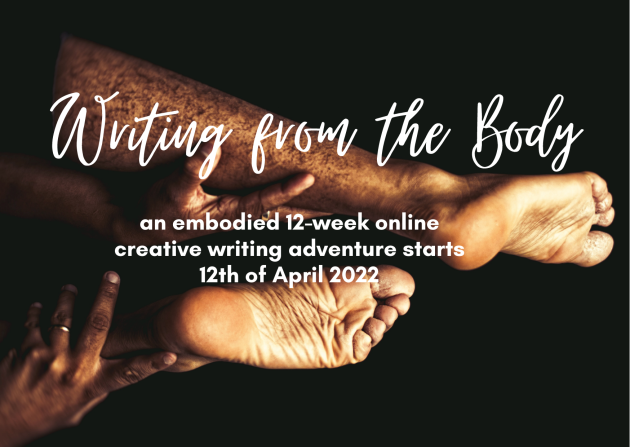 YOU'VE BEED WRITING FROM YOUR MIND, NOW WRITE FROM THE BODY!
This is my invitation to you! 

* Do you want to write from a more embodied place?
* Would you like to explore your creativity in new and adventurous ways?

Tap into the wisdom of your body & listen to the stories it wants you to tell.
Learn potent, innovative tools to unlock your creativity, release resistance & find your unique, authentic voice.
After a great success in recent years, I've now created a greatly expanded programme.

WRITING FROM THE BODY is a powerful approach and methodology that can revolutionise your writing- and how you relate to yourself!

STARTING ON 12th of APRIL 2022! Tuesdays 6.30-8.30pm UK time ! Watch a short video to find out more!


CHECK OUT THE COURSE ON MY WEBSITE HERE

Here are some reasons that you might like to join us:
💛 You have a desire to explore your creativity in new and adventurous ways
💛 You are interested in the connection between your body and how you express yourself creatively
💛 You would like to feel more empowered and alive, with an opportunity to tap into your passion and wisdom
💛 You would like to be encouraged on this creative journey and share this within a group of like-minded people.
💛 You know you have a story to tell but don't know where to start.

This course is for you if you:

I want to get out of your head and write from a more embodied, visceral place.


If you have always dabbled with the idea of writing but never had the confidence.


You feel isolated as a writer and would like to learn new approaches within a community of fellow writers and explorers.


You would like to feel more empowered and alive, tapping into your passion and the wisdom of your body.


If you would like to get to know yourself better through cultivating a connection to your body and to your writing.


You want to begin a writing project, continue or complete one.

Our bodies hold stories and memories- everything we have ever experienced thought or felt lives in our blood, our bones, muscles, cells, our very DNA.
* But how do we write from the body?
* How do we tap into the rich ground that is our body for inspiration and authentic, original writing?
* How can we write from our whole body not only from our mind/brain?

This powerful 12-week WRITING FROM THE BODY programme, starts on the 12th of April 2022.
We will meet online Tuesday evenings 6.30-8.30pm UK time to tap into the stories of our bodies and write about what we'll find there.

'Write your self. Your body must be heard.' Helen Cixous
In this 12-week journey we will consciously tune into our bodies, using movement, breathwork and somatic exercises to cultivate embodied writing. We will listen deeply to the stories our bodies hold, move effortlessly between movement and the page and back. We will play with automatic/ stream of consciousness writing, prompts and themed writing.
No experience in creative writing, movement or dance necessary, only curiosity and a willingness to experiment.
All exercises can be adapted to any levels of ability.
WANT TO KNOW MORE IN DEPTH ABOUT THE COURSE?  Click HERE

Want to learn more? Join us for a FREE INTRO SESSION on one of these dates:
1st & 15th of February and 8th & 22nd of March 2022  Book your free space HERE
For any questions, please email me: evieweaver@gmail.com
Cost: £777 for the 12-week course.

The fee includes:

* one hour individual coaching session with Eva- you can take this at any time throughout the 12-week programme and up to two months afterwards.
* all course materials, including a beautiful Writing from the Body e-book
* video lessons and transcriptions for you to keep
* access to a private Facebook community group throughout the course and afterwards
* 12 live sessions via zoom, working with the writing from the body methodology
* suggested homework/play and an opportunity for accountability with a buddy or small group
* you can repeat the whole 12- course again in the next round, autumn 2022 for a fee of £150 (includes another coaching session)

Payment plan available, please enquire: evieweaver@gmail.com

For a more in-depth outline of the programme see HERE

This is what participants have said:
'The workshop was a playful way to process deeply and find entry points into creative flow. Assisted Embodied Souldiving!' KC
'A unique set of tools to take me into a writing process, from deeply felt, often surprising places'
'This workshop gave me so much; new ways to connect to my writing, deeper characterisation, and scenes magically unfolded. Yet, I received more than that, an understanding of how our stories are in our bodies, and though Eva's gentle, warm and nurturing facilitation, I also had some incredible healing shifts for my personal life. Highly recommended.' Kate Marillat, bestselling Author of 'Transform your Beliefs, transform your life''
'Eva's 'Writing from the Body' workshop, that could easily be called 'writing from, through and beyond the body'- gradually takes you deep inside, quite effortlessly and much deeper then you realise, thanks to her gentle ways and playful strategies.
I have found it an inspiring and nourishing day and I brought home a lot of food for thought, snippets of good writing to develop as well as a palette of techniques to continue playing with.' Emmanuelle Waeckerle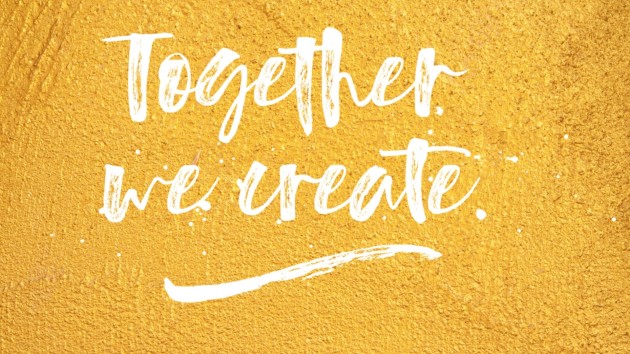 About me :
I am interested in the connection between our bodies and how we express ourselves creatively. I believe passionately in the healing power of creativity and in our birthright to creativity and a fulfilled sexuality. My intention is to support people to feel more empowered and alive and I bring my heart, passion and wisdom from my own healing journey and my experiences as a performance artist, writer, art therapist, sexological bodyworker, rebirther & creativity coach to my work and offerings.
Writing is my passion and my main creative expression. I have published two historic novels ('The Puppet Boy of Warsaw' (2013) and 'The Eye of the Reindeer' (2016) and am currently working on an erotic novel and a poetry collection.
I love facilitating creative spaces, such as WILD WRITE and 'WRITING FROM THE BODY and building communities and supporting individuals with their unique creative expression.
You can read more about my individual WILD WRITE COACHING HERE
I look forward to connecting with you!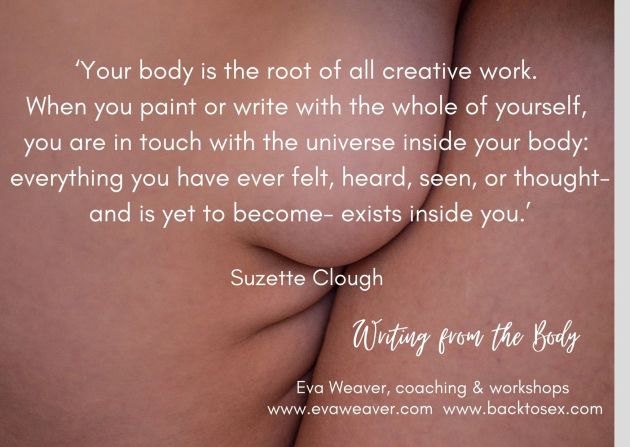 WANT TO KNOW MORE IN DEPTH ABOUT THE COURSE? Click HERE


ABOUT WRITING FROM THE BODY:
I feel the beauty of 'Writing from the Body', and the methodology it offers, is that it holds both the universality of us as humans who have an embodied experience in this life- all human live in and with a body- as well as our unique differences. For example, I am living and writing from a white body and this experience is vastly different to the experience of a person of colour, given the society we live in. That I am able-bodied and cis-gendered also shapes my experience and adds to my privilege.
'Writing from the body' can allow us to create dialogue about shared and different experiences and help us explore issues around health, sexuality, gender identity, race and cultural identity in deep and creative ways.
It can also support us to face, listen to and dismantle shame. It is inherently empowering.
Listening to my body I can hear my body's stories and the stories of my ancestors- to let those stories flow onto the page means they become mirrored back to me and can be witnessed by myself and also be shared.
When we do this work in a workshop context, we can not only find refuge in our own writing and on the page, but also in the community of fellow explorers. 


'A unique set of tools to take me into a writing process, from deeply felt, often surprising places.'
 
About Eva Weaver:
Writing is my passion and my main creative expression. I have published two historic novels  ('The Puppet Boy of Warsaw' (2013) and 'The Eye of the Reindeer' (2016) and I am currently working on a contemporary erotic novel ('The Upholsterer's Game')  and a poetry collection.
I have been interested in the connection between our bodies and how we express ourselves creatively for many years.
I believe passionately in the healing power and birthright to our creativity. My intention is to support people to feel more empowered and alive and I bring my heart, passion and wisdom from my own healing journey and my experiences as a performance artist, writer, art therapist, sexological bodyworker, rebirther & creativity coach to my work and offerings.

What participants of 'Writing from the Body' have said:

'The course was a playful way to process deeply and find entry points into creative flow. Assisted Embodied Souldiving!' KC

'This workshop gave me so much; new ways to connect to my writing, deeper characterisation, and scenes magically unfolded. Yet, I received more than that, an understanding of how our stories are in our bodies, and though Eva's gentle, warm and nurturing facilitation, I also had some incredible healing shifts for my personal life. Highly recommended.' Kate Marillat, bestselling Author of 'Transform your Beliefs, transform your life'

'Eva's 'Writing from the Body' workshop, that could easily be called 'writing from, through and beyond the body'- gradually takes you deep inside, quite effortlessly and much deeper then you realise, thanks to her gentle ways and playful strategies. I have found it an inspiring and nourishing day and I brought home a lot of food for thought, snippets of good writing to develop as well as a palette of techniques to continue playing with.' Emmanuelle Waeckerle