---
Buy tickets
Ticket Type
Price (£)
Fee (£)
Quantity
---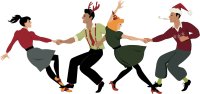 On the 17th Dec we'll be having our annual Xmas swing dance. This is a great opportunity to start the festive season with your new and old swing dance friends. We've got a real treat in store for you:
- Live music
- Performances
- Tea and mince pies
- A 2-hour Shag workshop from 1-3pm Jim and Nicky from Swingbytes Dance will be teaching you a fantastic Beginners 2 hour Shag Workshop before the tea dance!
Save the date & Book your tickets through the link.
£20 for 2-hour workshop & social (£35 for balanced couple)
£12 for the social only.