---
---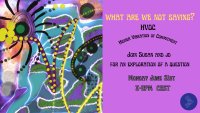 HVOC - Higher Vibration of Commitment. Over the past two years we've been returning to this open circle, to see happens when we commit to keep coming back to the question...
What are we not saying?
Often, the relational can be operational.  We are all practising how to be more human in the workplace, but we rarely prioritize the more essential questions - and go deeper. HVOC is a space without an outcome. It's the space we come back to again and again, in our commitment to the question: What are we not saying? And keep coming back.
Join Susan Basterfield, J.D. Nasaw, and more folks from the Greaterthan ecosystem in this monthly circle.

Susan Basterfield is a catalyst, convenor, coach, author and educator. She believes that awareness and discernment can unblock drains and move mountains. A partner at Greaterthan, she accompanies leaders worldwide on their journeys to what's next. A collective entrepreneur, she serves as a foundation director and member at Enspiral. 
J.D. Nasaw is a facilitator, coach, consultant, and community builder working at the intersection of somatics, self-management, social justice, and regeneration. As an associate at Greaterthan, he stewards the Academy and teaches courses on advanced facilitation, trauma-informed collaboration, and building thriving networks.