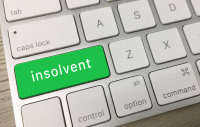 With insolvencies predicted to double, COVID ripping the heart out of many businesses, and the ongoing challenges of Brexit, the pressures on directors to behave well have rarely been greater. This wide-ranging recorded conference takes a look at an extensive range of facets and contexts from company law to insolvency and through to financial fraud 

This very comprehensive event, chaired by Stephen Allinson, with 9 speakers, will guide you through the key areas  in a very practical way. The conference will be of relevance to company/commercial lawyers, insolvency lawyers and practitioners, accountants, in-house counsel, company secretaries and all others who need to be able to keep up to date and advise on the interrelated complexities of this very difficult area of work.
Price £149 + VAT

Topics covered:

-Directors behaving badly on insolvency/Wrongful trading

-Directors' breach of duty
- Relief from liability
-Liens and subrogation in the context of claims against directors

-Directors conflicts of interest
-Bounceback and furlough fraud (Directors behaving badly during the pandemic) 
-Bribery and Corruption: taking stock of DPA's
-Directors and money laundering: An update 2021/2022
-What can we learn from CPS v Acquila ? (judgment on 3 November)

Speakers:

Stephen Allinson, Solicitor

Dov Ohrenstein, Radcliffe Chambers

Martin Evans QC, 33 Chancery Lane

Angus Bunyan 2 Hare Court 

Christopher Convey, 33 Chancery Lane

David Impey, Solicitor
Stuart Adair,  XXIV Old Buildings

Jennifer Meech, Enterprise Chambers

The Legal Training Consultancy
The Legal Training Consultancy is a full-service training consultancy with a large portfolio of conferences, in-house courses and trainers. You can find out more here: www.legaltrainingconsultancy.co.uk. Over the years we have been responsible for putting together a vast number of law and tax related conferences, webinars, seminars, videos and e-learning modules mostly for other training businesses. Since 1996 we have now produced well over 2,000 events. 
We have put together face to face conferences on a wide range of relevant topics, including Directors Duties, Director/Shareholders Disputes, Shareholder Agreements, Company Law Updates, Corporate Governance, Corporate Reconstructions, Insolvency Law Update, Insolvency Law for Company Lawyers, Bankruptcy and IVAs, Business Fraud and many others.

Contact Us
If you have any questions please contact us here:
http://legaltrainingconsultancy.co.uk/contact-us/