---
---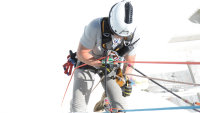 The International Technical Rescue Symposium is a gathering of persons from across the spectrum of rescue disciplines to share news and views on advances in equipment and techniques, technical problems, and issues of mutual concern. Attendees are typically paid professionals or volunteer rescue personnel from fire departments, national and state parks, mountain rescue teams, and other similar organizations.
Attendance is limited to preserve the collaborative nature of ITRS and to maintain opportunity for meaningful connection and information exchange.
Sign up and come join us!
Agenda
Thursday
Hospitality/Registration 6PM-8PM
Friday
Symposium Presentations 8AM-5PM
Standards Meeting 6PM-9PM

Saturday
Symposium Presentations 8AM-5PM
Hosted Event 6PM-8PM

Sunday
Symposium Presentations 8AM-1PM


Presented By:
ITRS is Presented and sponsored jointly by CMC and PMI.

Co-Sponsors
MRA
www.mra.org

National Cave Rescue Commission
www.caves.org

NASAR
www.nasar.org

SPRAT
www.sprat.org