---
---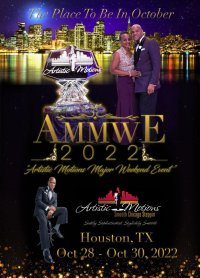 It's that time again AM Family! Artistic Motions is returning to Houston for the biennial event that has helped define the goals and aspirations of the Artistic Motions organization. We're bringing back the entire team that helped make the first event successful and memorable. Every service provider involved in the AMMWE2018 endeavor was eager to come on board for the biennial AMMWE2022 (we must be doing something right!).
AMMWE2018 helped us define our promotional space in the variety of offerings for the promotion of Chicago Steppin'. We wanted to raise the bar in terms of what we offered our patrons for AMMWE2022. What we learned from their honest and unsolicited feedback is that we greatly exceeded their expectations. Our goal is to do so again this year!
COVID-19 PROTOCOL: The State of Texas does not enforce vaccine mandates, however, the City of Houston Does. As such, we strongly recommend that all AMMWE2022 participants provide either (A) Up-To-Date Vaccination, Including Proof of A Booster Shot for Eligible Guests Received at least One Week Prior to the Event, Or (B) A Negative Covid-19 Test, Taken Within 24 Hours (for Antigen Tests) or 48 Hours (for PCR Tests).