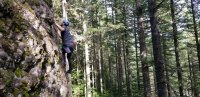 Grab a friend and learn the ropes of outdoor rock climbing. Our destination today is the beautiful French's Dome located on the side of Mount Hood. Spend the afternoon with our expert guides learning how to rock climb, tying knots and helping others climb through a process called belaying. For those that make it to the top, you'll be rewarded with endless views of pine forests and the snowy peak of Mount Hood. No experience necessary, just a sense of adventure! This trip is perfect for beginners to more experienced climbers!

Itinerary: 
9:00 AM- Meet transportation and depart from Happy Valley City Hall*
10:00 AM- Meet AWL guides, introductions and climbing instruction**
10:30 AM- Time to climb! (2.5-3 hrs climbing)
1:00 PM- Return to parking lot/closing circle
1:30 PM- Depart climbing location
2:00 PM- Return to Happy Valley City Hall
*Please try to use the restroom before leaving. There is only a single port-a-potty at the climbing area
**Participants can meet us at French's Dome climbing area. Please make a note during registration or inform AWL team ahead of time. 

Cost:
$90/person based on a minimum of 6 participants and max of 15
Inclusions:
Climbing instructor(s)

Trip planning & logistics

All climbing equipment (harness, helmets, shoes, ropes, belay devices, first aid, safety gear)

Location permits

Adaptive equipment/outdoor gear (available with 7 days prior notice)

Transportation from Happy Valley City Hall
Exclusions:
Packing List & Gear Requests:
Liability Release Waivers:
Participants MUST sign BOTH electronic liability waivers at least 7 business days prior to the trip. If the participant signs the waiver after this time frame then we may not be able to accommodate any specific needs on the trip. If the participant fails to sign the waiver, they will not be permitted to join the trip. If you are attending multiple trips in the same week, only one waiver is required.
1. AWL Liability Waiver can be found here: https://awloutdoors.org/helpfulinfo
2. Happy Valley Liability Waiver can be found here: Adult Liability Waiver OR Minor Liability Waiver*
*Only need to complete the Happy Valley waiver if registering through the city of Happy Valley 
Essential Eligibility Criteria:
Our team is trained to accommodate a variety of needs while on our trips, however, some trips and activities require certain requirements and abilities to ensure a safe and enjoyable experience for all. Please review our Essential Eligibility Criteria to determine if our trips would be appropriate for you.

The Essential Eligibility Criteria can be found here: https://awloutdoors.org/helpfulinfo
Cancellation & Refund Policy:
Inclement weather is in the forecast, should we cancel?

What if we have to cancel the program?

To cancel the program, we ask that you notify us as soon as possible and at least 14 days in advance for a full refund (minus transaction fees). If you cancel within 14 days of the trip, then you will forgo 50% of the program cost.
What if we don't get enough participants?

In order to guarantee that the trip will proceed, we must reach the minimum required number of participants at least 7 days in advance. If we do not reach that number by this time, we have the right to cancel the program.
If we need to cancel, how should we notify you?

The short answer is, the fastest and most direct way. An email or phone call as soon as you think you may have to cancel is the best option. Even if you're unsure, shoot us an email. It will be very much appreciated.
What if AWL cancels the program?
If AWL chooses to cancel a trip due to weather, environmental conditions, or otherwise, you will be given a full refund. Please note, our trips require the minimum number of participants listed above to proceed.
I have other concerns or questions about the cancellation and refund policy, who should I contact?

What to do next?
1. Review the Essential Eligibility Criteria and Covid Policies
2. Register for the trip
3. Sign BOTH waivers: AWL Liability Waiver and Happy Valley Liability Waiver
4. Review the trip pack list
5. If needed, submit gear requests