---
---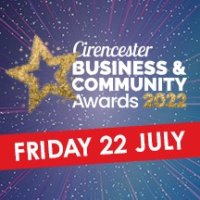 Cirencester Chamber of Commerce is holding a brand new and exciting Awards presentation ceremony this year, to celebrate not only the success of local businesses, but also the achievement of the community sector.
After two years of COVID-19 during which volunteers and community organisations have gone the extra mile to help others, this year it is especially important to thank them and celebrate their achievements alongside those of the business community.
Join us on Friday 22nd July at The Parish Church of St John Baptist for a complimentary pre-dinner drink at 6.00pm, followed by a delicious locally-produced cold platter and pay bar, as you enjoy the awards ceremony from 7.00-9.00pm.
There will be 7 business awards and 4 community awards that will recognise individuals, groups and projects. The Awards evening will be a unique opportunity for charitable and voluntary organisations to get together with local businesses, to make new connections and to recognise and reward individuals and organisations in the town.