---
Buy tickets
Ticket Type
Price (£)
Fee (£)
Quantity
---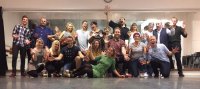 Level 1 Lindy Hop classes
This is the course for you if you have never danced before or if you have done some dancing but have never done a swing dance class. Level 1 Courses are great for people who want to start off their journey into lindy hop with a solid foundation. Lindy hop is a social dance, so you will learn how to lead and follow from the beginning. You will learn all the core basic skills you will need through every level of this dance. Learning these skills will ensure that you can progress to higher levels of dancing with confidence.
What: For this last course of the year we have something special... During this short, 3-week course you will be learning Lindy Hop as a routine with Christmas in mind. Dancing a routine can really help you build your confidence and style in your dancing. You will get a chance to perform your routine with your group during the Xmas dance on the 17th December (not compulsory).
Special Offer: Book a Couple Xmas ticket which includes the 3-week course for Lead/Follow PLUS the Xmas Dance PLUS the 2-hour workshop before the Xmas dance!
Requirements Level 1:
You are new to dancing or have done some dancing but have never done a swing dance class.
or You have done Level 1 or Level 2 drop-in classes before, but have not yet done a 6-week course.
Bring an open mind
Enjoying yourself is key
Be sure to select the correct "lead" or "follow" ticket. If the tickets are sold out, drop in classes on Monday night are still available.
Do you need to know, what is Lead and follow, what to wear and bring to class (such as strictly indoor shoes), or any other questions then please visit our FAQ's page.
Terms & Conditions: Tickets are non-refundable.