---
Buy tickets
Ticket Type
Price (£)
Fee (£)
Quantity
---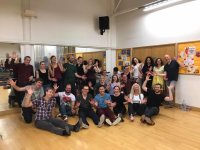 Level 3 Lindy Hop Classes 3 Week Course
This course will work progressively from Level 2, using the skills that you have gained and improving these further. In this level you will learn many more authentic lindy hop moves but be looking to refine your technique of the Swing Out and many other Lindy hop foundation moves. We recommend this course for dancers who have progressed from the Level 2 course, and also dancers who have been dancing for longer and are looking to strengthen their overall technique. Please get advice from our experienced teachers before booking onto this level so we can advise you if it's the right level for you.
What: For this last course of the year we have something special... During this short, 3-week course you will be learning Lindy Hop as a routine with Christmas in mind. Dancing a routine can really help you build your confidence and style in your dancing. You will get a chance to perform your routine with your group during the Xmas dance on the 17th December (not compulsory).
Special Offer: Book a Couple Xmas ticket which includes the 3-week course for Lead/Follow PLUS the Xmas Dance PLUS the 2-hour workshop before the Xmas dance!
Requirements Level 3:
You have done the Level 2 courses for at least 4-6 courses ( about half a year), or longer as advised by your teachers
or You have been dancing Lindy Hop for about a year
or Your teachers have advised you to start Level 3
You have a solid experience of dancing the basic footwork and moves, including the swing out and circle
You have started to develop a focussed and reflective attitude towards learning and start to take charge of your own development
You attend social dances on a regular basis
You have learned at least 1 to 2 solo jazz routines (such as the Shim Sham or the Tranky Do)
Be sure to select the correct "lead" or "follow" ticket. If the tickets are sold out, drop in classes on Monday night are still available.
Do you need to know, what is Lead and follow, what to wear and bring to class (such as indoor shoes), or any other questions then please visit our FAQ's page.
Terms & Conditions: Tickets are non-refundable.