---
Buy tickets
Ticket Type
Price ($)
Fee ($)
Quantity
---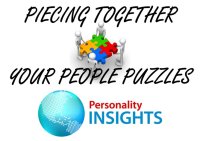 If you've ever wondered why what you said or did wasn't what someone else understood, here's your chance to get an introduction to a set of tools that close this kind of gap! This engaging session will provide an easy way to begin to understand the patterns of people; People Puzzles, if you will...
In an hour and a half or less, we'll cover the information necessary for defining a starting point for making any personal or business interaction you have more effective.
This session is intentionally being offered at this ridiculously low cost to eliminate any reason anyone has for not learning how this material can open the door to better communication; and like everything else we do, it comes with an unconditional guarantee! If you're looking for a way to be effective in every communication, this will provide you with an understanding of how you're wired, ways to quickly recognize the personality style of the person you're communicating with, and how to adapt to the situation so you can achieve the results you're after!
As Certified Human Behavior Consultants, we look forward to being able to provide these tools in this small, personal setting.