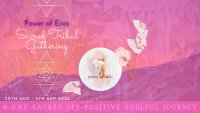 Power of Eros 🐍💜✨
A Journey of Soulful Embodiment

Tribal Sacred Gathering 2022
💜✨ tribal intimacy 💜✨ deep into trust 💜✨ shamanic transformation 💜✨magic of togetherness 💜✨ sacred sex-positive 🐍💜✨ sensually wild 💜✨ dancing celebration 💜✨




A sacred sexuality journey into centerdness and intimacy. An invitation to show yourself & be seen, share embodied presence, ritual spaces of transformation & inner alchemy, wild ecstatic & sensual experiences, and give yourself to the mystery of connections and to your own soul.
In this unique experience you are continually invited deeper into surrendering to the power of presence, pleasure, and Eros.
Journeying all together in one spaces, working & celebrating through the themes of sovereignty, synergy, sacredness and integration.
Every day is rich with morning activations, sharing space & deep process, transformational workshops, music, dance and Temple Nights!
WHAT ARE YOU IN FOR?




* relaxed nervous system in a group of people - tribal intimacy
* space of showing yourself authentically and being seen
* centered state of sensing your yes's and your no's
*deep fulfilling intimacy and sensually nourished bodies


*cleansing and creating space for the new


* invoking a powerful vortex for your life be filled with your soul purpose


* sacrificing and dropping the pieces which want to be released from your life and your structures


* grounding your intentions into the body


* working the sacred alchemy to integrate the feminine/masculine and dark/light polarities


* loosening, freeing and celebrating in dance & togetherness


* and much much more <3
A SNEAK PEAK INTO THE SCHEDULE
[This is for you to get a taste of what and when will happen. It's subject to changes. Full program will be published about 1 month before the Journey. Workshop titles & themes of the day will be published later on.]
Tuesday 30th: ARRIVING HOME
12:00- 15:00 - Arrival, registration & landing + lunch
17:00 - Opening Ceremony
19:00- 21:00 - dinner break

21:00 - Soft Temple warm-up


Wednesday 31st  August - Saturday 3rd September
8 - 9am - (optional) morning activation

9am Yum breakfast
10am Dancing, Sharing, circle & completion
12pm Morning workshop

14 - 17 Luxurious-long Lunch break
17h Afternoon workshop

19:00-21:00 Dinner, connection & reset break
21:00 - Temple with various themes + sauna nights




Sunday 4th: INTEGRATION
Yum breakfast
Integration Sharing, circle & completion ritual + epic dance finale
Lunch & goodbyes (latest departure 5pm)
This was our schedule from 2021 - this year's program will be published in June: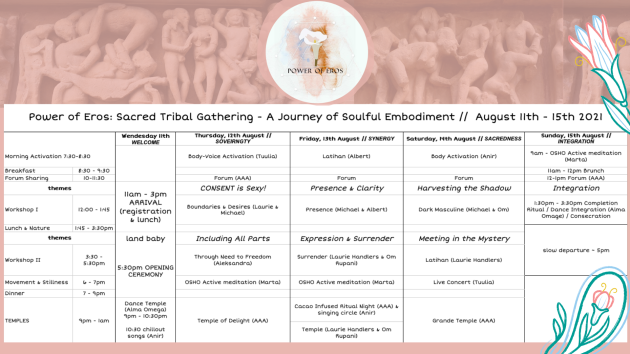 This year we have:
> one day extra!
> extra longer breaks for lake, sun & play time
> less is more!
> process oriented workshop in the morning & pleasure oriented workshop in the afternoon
Feeling the sweet call? Join us!
💜✨ Energy Exchange
Journey Ticket:

450€ Pre-Sale (first 7 tickets)
480€ Super Early Bird (next 7 tickets)
499€ Early Bird (next 7 tickets)
539€ Regular (next 9 tickets)
579€ Last Birds (next 9 tickets)



Food & accommodation options:
There are two options: either bed in shared room (300€ including food) or bring your own tent (250€ per person including food).


Total price covers: 6 days / 5 night of the deep journey experience; yummy veggie & fresh Ayurvedic food (with vegan & gluten-free options); choice of your accommodation (shared room or tent); Temple nights with various themes; gong bath; daily sauna session; workshops to process & workshops for pleasure activation, musical experiences, many many yum dances; magical cacao; long luxurious breaks to enjoy nature, lake & each other and beautifully held space with deep love activities.


Note: there is no option to opt out of food unless you are on a very specific diet (in which case please contact us directly).



< Spaces are limited / book now to avoid disappointment >





YES PLEASE! >>>> REGISTRATION:


1) Get your deposit ticket on this page (and pay the rest + venue & food in cash upon arrival). *


2) Fill in a Participant Form to complete your registration (you will be automatically redirected after completing checkout).

* Please read Terms & Conditions upon checkout

💜✨ Guest Facilitators


Laure Handlers (USA) & Michael Gibson (USA)
Laurie Handlers Happy . Radical . Juicy
Her career includes over thirty years as a corporate change consultant,individual empowerment coach and international seminar leader. Also she's been broadcasting the Sex and Happiness podcast for over a decade. As a speaker and facilitator, Laurie has taught transformational workshops since 1978 covering topics such as releasing past emotional trauma, stopping the aging process, and moving in the unknown. She has produced and starred in three independent award wining films and is the author of Amazon International Bestseller Sex & Happibess:The Tantric Laws of Intimacy (now available on Audible). She is a Lead facilitator for ISTA (International School of Temple Arts) and has a passion for Radical Life Extension.


Michael Gibson Presence . Passion . Truth
Is the creator of the Extraordinary Lovers Experience, the Extraordinary LoversCoaching Programs and is a Certified Sex and Happiness Coach. He is a coach, podcast host and facilitates live and online workshops for couples. Extraordinary Lovers Programs are available through SexTalk radio, YouTube, Patreon, private coaching, self-study online courses, live immersive retreats, and the live streaming platform, Twitch.tv!
+ musical contributions to be announced soon!

💜✨ TESTIMONIALS


I left nourished, much more centred and with a knowing that I'm part of a wonderful family where I am seen, loved and where I can truly be myself. ~ Olga
I loved the family feeling, the mindfulness of you and the participants, openness of the people, the topics of the workshops and the big sharing circle. I met myself very intensively and grew. ~ Maika
I'm so grateful for the opportunity to experience myself in a safe and yet very juicy and lively space! It's been a great opportunity to grow!! ~ Sonja
We explored ourselves, together with other curious souls, in the safest way, as slow as we would like, with constant care and support. An important step forward for any brave being. ~ Amnon
Transformation started to happen. For the first time since childhood I woke up with a soft smile on my face. Thank you my friends. ❤ ~ Lukas
💜✨ PRACTICALITIES


Our beautiful site is located north of Berlin and will remain secret for now... Take a moment to tune into your intention for this Journey. This is an 18+ event. NO chemical perfumes / smelling deodorants - we like it all natural! NO alcohol or other mind altering substances during or on the day of arrival. NO waste - take all waste you bring back home. More information after you register. . . . .
Venue
Our beautiful venue in the midst of green fields and just 10min walk away from a lake is located in Biosphere Reservate of Schorfheide-Chorin, north of Berlin. We keep it a secret...
Getting There
Shared car rides from Berlin. (self-organised via Telegram group which will open 1 week before the event).
or by Shuttle to the venue from the nearest train station which will be offered. Info upon registration.
Accommodation
Accommodation is offered in 4- or 6-person shared rooms. You will need to bring your own bedsheet set & pillow cover. Or you can opt to put up your own tent in the beautiful little forest by the house.




Read more about the Contributors, Location and our Container at: www.poweroferos.com
Questions?
Email us at info@poweroferos.com
Our beautiful team will be happy to support <3


Thrilled to co-create this magic with you!
💜✨ CO-CREATORS & FACILITATORS


ALEKSANDRA MARIA LOVE @erotic.mystic (Poland) - "I envision a world filled with juicy vibrant sensuous togetherness". You are so Invited into this world! I am a vision-keeper & creatrix of spaces of unashamed connection, intimacy & sacred sex-positivity. I proudly stand in the purpose of bringing sacredness to matter & Eros. With me you can receive transmissions of permission, wilderness, sensuality, confidence in embodied presence, vibrancy of eros, big heart of Cosmic Mother compassion & soulful living. I'm dedicating my life to healing and transitioning towards the New Culture and ecstatic existence on Earth. I'm also an earthy mother of magical being Noa Gaia.
~


ALBERT BITTON (Israel) – an artist, community manifestor, dreamer, Shamanic medicine practitioner, sex-positive space initiator, producer of transformational events, incurable romantic, a man of many traits...Co-creator of Nature Temple splash & Power of Eros. Albert brings a fusion of his experiences and different social circles in his life to a transmission that weaves both depth and lightness. The sorcerer of the enhanced cacao, creating super ecstatic experience combining plant medicine knowledge with delicious raw cacao. At the end of 2014, he moved to Berlin following his heart, unfolding his spiritual, sexual, and shamanic transformation. Starting in the shadowy S+ and BDSM communities in Berlin, growing into the integrated and conscious Sacred Sexuality. His life philosophy is to grow from challenges by meeting them face to face. After several journeys to the Amazon jungle in Peru, he found profound love, choosing love as his way to meet life!


~


ANANDA AMIT ANGELO (Israel) - Is a sex shaman, leader, coach and a father of three. In his work he supports people's empowerment, pleasure and ecstatic current by letting go of guilt and shame around sexuality.With 20 years of professional dance, leadership and community building, and 7 years of Tantra experience, leading retreats, sacred temples and one on one sessions."I have devoted myself to unshame pleasure and sexuality, connect them to the heart, and serve humanity to a paradigm shift of love. I am inviting my brothers and sisters to play freely and walk this earth shining their pleasure and light. WE ARE ALL CONNECTED IN LOVE TO EACH OTHER". Ananda is also an apprentice at ISTA.life and certified Sex & Happiness coach.
Contact: info@poweroferos.com