---
Buy tickets
Ticket Type
Price (£)
Fee (£)
Quantity
---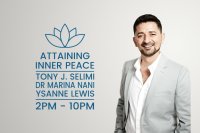 Would you like to have inner balance, peace and greater self-mastery? Are you tired of being tired, of carrying around old hurts, resentments, shame and guilt? Of automatically over-reacting or impulsively responding in negative ways?
In this talk, Tony J. Selimi, the human behavioural expert who advises FTSE 100 executives, coaches entrepreneurs, celebrities, influencers and people from all professions shares a unique formula that you can use to identify what causes you inner war, what you can do to address the issues that create it, and teach you how to use The TJS Mindfulness Principles to attain a sense of inner peace.
Truth is, negative moods caused by our inner rebellion, anger, anxiety, loneliness and depression affect all of us from time to time. No matter how sincere we are spiritually, these habits from the past can ambush us and rob us of our joy. Exaggerated enthusiasm, attachments, and attractions can also make us off-center and less able to cope effectively with life.
Join us for this inspirational evening and let Tony, The See-Through Coach, guide you into activating your inner coach, mentor, and healer so that you too can calm your body-mind, find inner peace and hear the calling of your soul.