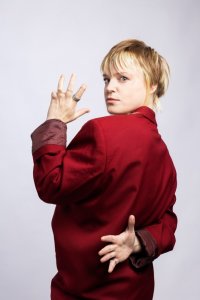 We are very excited to welcome Wallis Bird back onto The White Horse Sessions stage this Autumn. 
The front cover of Irish born, Berlin based WALLIS BIRD's new album features a black and white photograph of a hand. A cursory look might not reveal anything unusual, but it only takes a moment to recognise it's no ordinary hand. In the shadows there's a stump where the little finger should be, and something seems off about the other digits too. Some will understand its significance: they'll have seen it strumming an upside-down, right-handed guitar, picking in unorthodox style, forming unconventional chords. The hand, you see, is WALLIS BIRD's, and it's there because, having spent much of her life trying to exist despite its restrictions, she's reached a point where she recognises that, in many ways, it's always been vital to her lived reality. With this has come a realisation of "who I am, what I am, and what I don't want." HANDS documents her subsequent process of change, and its consequences, with typically distinctive style, making it – hands down, naturally – one of the most honest albums you'll hear at a time when honesty is at a premium.
HANDS was completed with 'The Power Of A Word', a hushed showcase for shimmering synths and a notably ethereal vocal. At the heart of the track – as with so much of HANDS – is self-examination, change and acceptance. "Up until recently," BIRD concludes, "I simply treated my hand as something additional, not primary to my story. But, during this pandemic, when everything in my usual life was scattered, I found myself wondering 'Who am I? What am I? What story do I leave behind?' My story had been one of stubborn 'I can do it just as good as anyone', but this new chapter in my life has been about letting go of over-controlling, handing things over to others, being comfortable with my surroundings and colleagues, and knowing I'm understood. Right now, I'm a passenger, a guest in my life, because the album has been so collaborative and so out-of-bodily written, almost hypnotically. And I love it!"
And it shows. So let's see those HANDS in the air. After all, there's a lot to celebrate here..
s
www.wallisbird.com

https://www.instagram.com/wallisbirdofficial
We are so happy to have Wallis back on The White Horse Sessions stage this Autumn. These will fly out the door! Get your tickets soo!
Please note refunds are available up to 24 hours before the scheduled date and time of gig.