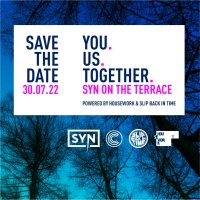 SYN ON THE TERRACE
POWERED BY HOUSEWORK & SLIP BACK IN TIME
COUNTRY CLUB TRENT PARK  // LONDON // 30 JULY 2022
A COMING TOGETHER OF PEOPLE, MUSIC, DANCE AND SUNSHINE VIBES.
1 day, 2 stages, 19 DJs. We walk the forbidden path together for a day & night of SYN.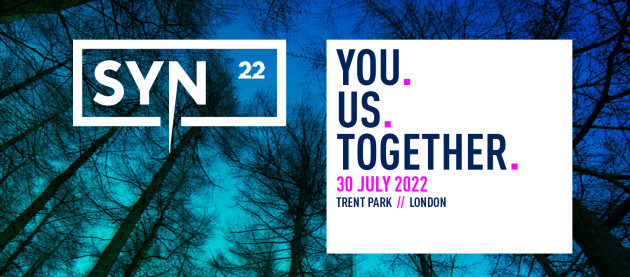 This hot off the press event is the brainchild of HOUSEWORK and SLIPBACK IN TIME – two brands famed for delivering the very best parties to the very best people.
And when one day party is just not enough… we bring you a full-on day & night event of the very best house music delivered in the urban undergrowth of Trent Park. IBIZA ON THE TERRACE is big enough to inspire, but small enough to stay intimate – making sure you see the DJs you want to see without losing your marbles or your mates – unless you really want to.
It's time to experience that great Ibiza vibe together - from daytime playtime to raving & misbehaving after dark. On 30th July 2022 we get busy with some summertime vibes.

Just some of the talent injecting the vibes throughout the day & night are house heroes SLIPMATT, K-KLASS, ROB TISSERA & TENACIOUS alongside old skool masters SHADES OF RHYTHM, ACID BROTHERS & DJ FAYDZ. They will be amongst nearly 20 other of your DJ favourites to bring you a full 15 hours of quality beats and bleeps. 
REMEMBER... Our parties are NEVER just about the line up... Sure we work hard to make sure that music takes you on a journey all day & night but the one thing that sets us apart is the PEOPLE... we keep the right people coming to our parties... The happy people... smiley, inclusive high fivers & warm huggers... You know the sort... Yes, your kind of people... 
Full line up below...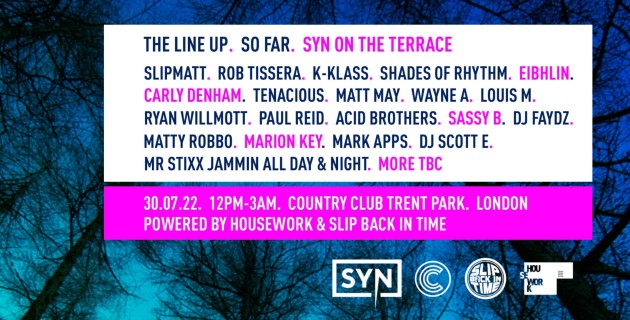 CHOICES. YOUR DAY, YOUR WAY.
Whether you are a daytime person, a night time person or you want to get down and dirty for the full day & night experience, there is an option to suit your fancy.
DAYTIME TICKETS //  12PM-9PM
Daytime kicks off at midday sharp as we open up the Terrace in what we hope will be glorious sunshine. Expect a frenzy of hugs & high fives as the terrace builds itself up into a frenzy of big thumping beats from some of the best live performers we know.  We will be packing the day with the big hitters ensuring this is a party that will live long in the memory. Be warned though, the daytime will fly by in the blink of an eye...will you honestly be ready to head home at 9pm...or will you be sticking around for the best after party in town???
NIGHTTIME TICKETS //  9PM-3AM
Nighttime ticket holders will get two hours raving on the terrace as daytime turns to darkness... As time gets called on the outside arena it is time for everybody to head indoors where we get down & dirty until the early hours. After a day of headliners it is now the turn of your HOUSEWORK favourites to bring this EPIC party home. 
DAY & NIGHT ULTIMATE TICKETS //  12PM-3AM
This is for the ULTIMATE raver...the one who loves to arrive early, watch the party fill up and then stay there right until the DJ spins their final tune. This is the ticket for the party goer who likes no rush, no hurry, no scurry – just a nice, stompy 15 hour party with your favourite crew mixing with some of your favourite DJs.
MIXING WITH THE TALENT
One of the things that sets our parties apart is that we don't do ego's...we choose the DJ's that we know love to mix it up with the crowd... DJ's that love & appreciate the clubbers that come to watch them do their thing. We have always believed that the best parties are the ones where we are all in it together like one big happy family. This will be one of those parties.
FUELLING UP
Food will be provided by hand-picked vendors... And we have a fully stocked draught bar & cocktail area. No dirty burger vans… quality food and drinks to keep you partying hard throughout the day & night.



THE IBIZA TERRACE PARTY – POWERED BY HOUSEWORK AND SLIPBACK IN TIME

YOU. US. TOGETHER.
See you there you sexy lot x

‍-------------------------------------------------
TICKET INFO
PRICES START FROM
DAY PARTY TICKET
12PM-9PM // FROM £30
NIGHT PARTY TICKET
9PM-3AM // FROM £20
DAY & NIGHT PARTY TICKET
12PM-3AM // FROM £40
‍-------------------------------------------------

THE SMALL PRINT
Covid-19 Update: Due to the daily changes that are happening in our world due to covid-19 the goal posts are constantly moving. We are doing our best to deliver then event we have all been planning. However, official guidelines and restrictions from the UK Governments, as well as Local Councils, may mean hotels, parties / events, locations and services may be subject to change for reasons outside our control. Rest assured we WILL do our best to deliver on our promise, but cannot be held responsible for contributing factors that diminish the experience. We will always be fair with you, our family.
Dress Code: Comfy. Sexy. Dressed as a dinosaur. You are here to have fun…
Age & ID: This holiday is strictly over 25's. Everybody will need to bring ID to gain access
Exclusivity: It is a SUNSHINE event. Tickets will be LIMITED. Our advice would be to BOOK EARLY to avoid disappointment.
Wristbands: Wristbands will be supplied for your respective ticket purchase at point of entry.
No Wristbands will be available for purchase on the door. This is a pre-purchase event only.
Security will be on the door to ensure our exclusivity.
No Wristband = No Entry = No Fun
Respect Policy: We ask that all of our guests respect and observe any rules that the venue put in place on the night. These rules are for your comfort and safety, and are in place to ensure you have an unforgettable time.
Onsite Payments: Cash / card payments is accepted at this venue.
Onsite Alcohol: Only alcohol purchased onsite can be consumed on site. The venue security have the right to confiscate and dipose of any alcohol that they suspect has been brought in from outside.

Drugs Policy: The UK has a very strict policy when it comes to drug use… Anybody found not observing this rule may be ejected from the venue and may even be prosecuted.
Remember kids. Just say no.
Refund Policy: We will be working within the Government and local council guidelines to deliver this event. This may mean restrictions on what and how we deliver. Refunds for any tickets purchased directly via SYN EVENTS will only be made if the event is cancelled fully or if a change of date results in you not being able to attend. Refunds will not be given if the event goes ahead with restrictions in place.
Cancellation: SYN EVENTS LTD and any related companies and / or the directors cannot be held responsible for cancelled postponed or altered events or if an artist, act, performer or DJ cancels their performance.
Updates to the Terms & Conditions: SYN EVENTS LTD retain the right to update these terms and conditions.