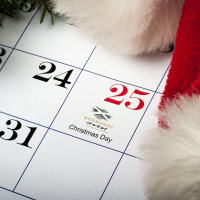 White Cart Restaurant - Christmas Day Lunch
Come and join us for a delicious 3 course Christmas Lunch and leave all the cooking and washing up to us!  Relax and enjoy your day and we will do the rest.  We may even have a visit from Santa!
Ticket prices
Adult (Over 12's) £55.00
Child, age 3 to 11 £25.00
Child age 2 and under £7.50
Deposit on Booking £15.00 per adult & £7.50 per child - Balance is due 6 weeks prior to date of event.
Arrival: 13:00

PLEASE NOTE:  ONCE YOU HAVE BOOKED YOUR TICKETS YOU WILL BE REDIRECTED TO BOOK BEDROOMS IF REQUIRED

ADULT MENU
Roast Butternut Squash Soup with Curry Oil

Smoked Salmon Terrine with Dill Creme Fraiche

Goats Cheese & Sundried Tomato Tart with Hazelnut Pesto

oooOooo
Turkey Ballontine with Chestnut Stuffing, Pigs in Blankets, Duck Fat Roast Potato, Honey Glazed Parsnips, Sprouts in Pancetta & Braised Red Cabbage
Roast Sirloin of Beef with Yorkshire Pudding, Duck Fat Roast Potato, Honey Glazed Parsnips, Sprouts in Pancetta & Braised Red Cabbage
Chargrilled Polenta with Butternut Squash Fondant & Roast King Oyster Mushroom
oooOooo
Traditional Christmas Pudding with Brandy Sauce
Bailey's Cheesecake with Salted Caramel Sauce & Ginger Crumb
Trio of Cheese with Apple Chutney, Grapes & Oatcakes
oooOooo
Tea, Coffee & Mince Pies
KIDS MENU
Tomato Soup
Fan of Melon with Mixed Berries
oooOooo
Roast Turkey Dinner
Mac 'n' Cheese with Garlic Bread
oooOooo
Chocolate Fudge Cake
Vanilla, Chocolate & Strawberry Snowman Ice Cream