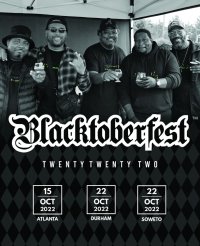 Blacktoberfest is back...bigger and better, introducing a host of new Black-owned breweries and a brand new city this year - Atlanta, GA! Our cultural connection to beer, food, art and entertainment is excited to return for year three of the dopest, most impactful Black craft beer festival in America!
Once again...it's on. We are pleased to announce Blacktoberfest 2022, the third installment of Black Brew Culture's amazing celebration of beer, food, art and entertainment. We invite you to join us for a month-long showcase of craft beer, culinary and educational events throughout the month of October as we pay homage to the growing Black craft beer community in the United States and across the globe. 
What's new in '22? We've added a brand new city and venue - Hippin Hops Brewery in Atlanta Georgia! HHB's 3rd location will host Blacktoberfest 2022: Atlanta at it's brand new 11,000 sq. ft. facility in Stone Mountain - one of the largest Black-owned breweries in the United States. Consider it the first of many, an annual tradition we'll kick off this year on the second weekend in October! 
Later in the month we follow up last year's fests and once again connect across the Atlantic in Soweto, South Africa (10/22), and return to North Carolina for the second year in a row at Suite Four @ The Durham Bottling Co. - Durham, NC (10/22). We've also adjusted our format to present a hybrid experience of curated activations and traditional festival style booths that will create a new standard for craft beer events for years to come. In addition, our global alignment with South Africa's Brewster's Craft adds an exciting opportunity for our attendees to experience a piece of the African Diaspora's rich cultural heritage - all through the vehicle of craft beer!
In addition to each Saturday main event, Blacktoberfest 2022 will also include a weekend long schedule of events––symposiums, bottle shares, and a brewers' brunch featuring collaborative food and beverage pairings.
VIP - Bottle Share | Festival | Brewers Brunch | Merchandise Bag

$250

Atlanta, GA - Friday, October 14th - Sunday, October 16th, 2022. 
Ticket Includes:
Friday, October 14th: Pre Festival Party and Bottle Share - 5PM to 9PM at Hippin Hops Distillery (Hosea and 2ND)
Bottle Share presented by Black Brew Culture and Hippin Hops Distillery 
Saturday, October 15th - 1PM to 10PM - Hippin Hops Brewery. Stone Mountain, GA
Branded swag bag

Official Blacktoberfest 2022 t-shirt

5 oz. Blacktoberfest tasting glass

16 oz. Blacktoberfest collaboration beer

Access to VIP designated VIP rooms and areas 

Exclusive VIP bathroom access

Early access to exclusive beer and food pairings

Unlimited 5 oz. pours of participating craft beer, spirits samples and cider

Access to 40+ food and retail vendors, Live Bands and DJs
Sunday, October 16th: Brewers Brunch - 11AM to 3PM | Venue TBA
Brewers Brunch featuring food, beverage pairings, & live entertainment not featured at main event

Brunch with our brewers and industry execs from 10am-3 pm.

Beer and beverage selection

Digital preview of Blacktoberfest 2023 and venue announcement


Early Admission
$75
Saturday, October 15th - 1PM to 10PM - Hippin Hops Brewery. Stone Mountain, GA
Ticket Includes:
1 hour early festival admission

Early access to exclusive and limited pours

Branded swag bag 

5 oz. Blacktoberfest tasting glass

Unlimited 5 oz. pours of participating craft beer, spirits samples and cider
Access to 40+ food and retail vendors, Live Bands and DJs
Indoor/Outdoor access
General Admission
$55
Saturday, October 15th - 2PM to 10PM - Hippin Hops Brewery. Stone Mountain, GA
Ticket Includes:


Non-Alcohol/Designated Driver
$35
Saturday, October 15th - 2PM to 10PM - Hippin Hops Brewery. Stone Mountain, GA
Ticket Includes:


Pre Festival: Bottle Share
$30
Friday, October 14th - 5PM to 9PM at Hippin Hops Distillery (Hosea and 2nd)

Ticket Includes:

Black Brew Culture x Hippin Hops Distillery Bottle Share

Food, beverage pairings, & music not featured at main even





Sunday: Brewer's Appreciation Brunch
$30

Sunday, October 16th, 2022 - 11AM to 3PM | Venue TBA
Ticket Includes:

Brewer's Appreciation Brunch 

Food, beverage pairings, & live entertainment not featured at main event