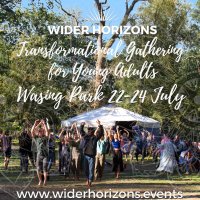 Calling young adults who want to dive deep, explore things that really matter and widen the horizon!
Are you a conscious soul who wants to help create a better world? Would you like to experience more meaning, connection and joy in your life? Wider Horizons nurtures an intention for transformation, catalysed by innovative workshops, sacred ceremony and mellifluous music to inspire you with the knowledge, energy and self-belief to step into your true self and embrace life with optimism and trust.
Join us at Wider Horizons and explore cutting-edge discoveries in spirituality, science, philosophy, health and wellbeing. Learn about the mysteries of life - all things creative, wild, mystical and conscious - from great minds and experts in their fields. Practise tools for self-care and healing. Raise your awareness about social justice and eco-activist actions and develop tools to become an effective changemaker, empowered to build a better world from a place of peace and deep understanding. Meet amazing professors, doctors, explorers, elders, druids, visionaries, artists and musicians. There's ecstatic dance, songs around the fire and music from top musicians such as Ravi Freeman, George Barker and DJ La Plage.
Wider Horizons Summer Gathering
Friday 22nd - 24th July
Wasing Park, Berkshire

SACRED ACTIVISM * CONSCIOUSNESS RAISING WORKSHOPS * VISION QUEST * SELF-MASTERY * FIRE AND CACAO CEREMONIES * MEDITATION * YOGA * QI GONG * ECSTATIC DANCE * SACRED SINGING AND DRUMMING * LIVE MUSIC AND DJS
This is our fifth event and will expand upon the magic that is gaining momentum each time we gather. Wasing Park is a country estate with wild swimming lakes and beautiful ancient woodland just outside Reading. Workshops and entertainment run from Friday at 12.30pm to Sunday at 5pm.
Full info –  www.widerhorizons.events   www.instagram.com/wider8horizons/      www.facebook.com/wider8horizons/
Watch movies of our previous events here:
https://m.youtube.com/watch?v=bvUEaP21JbQ&t=41s
www.youtube.com/watch?v=P7M2xlg0EAs
www.youtube.com/watch?v=VMEsLmP3g7o&t=43s
www.youtube.com/watch?v=OMcoWzypdT8&feature=youtu.be
www.facebook.com/wider8horizons/videos
If you have any questions for the community ask in the Wider Horizons FB group –
www.facebook.com/groups/495226594356699
We're super excited to welcome you at the Wider Horizons Summer Gathering 2022. Join us over three days at a beautiful sacred site and make some amazing friends for life!
TICKET INFO

Ticket includes delicious vegan and vegetarian food and teas for 3 days
Early Bird - £144
Later releases progressively increase - £157, £167, £173
General Release - £181 from June 6th
Reduced Price for people on low income - 10% off - £163
If you need a cheaper price than this please contact us as we want all to be able to attend. www.widerhorizons.events/contact/
If you are financially abundant, please keep it flowing and consider paying the higher price to help us offer special prices for young adults on low income.
-----------------------------------------
ACCOMMODATION
There is ample space for tents, campervans and caravans and offsite local accommodation options. Check website for further info - www.widerhorizons.events
We have furnished bell tents available for £150 (Includes two single raised airbeds, with hotel grade linen, pillow, blanket for each bed, bedside table, lamps and carpet) LINK FOR BELL TENTS 
Depending on the weather you may be able to drive on and drop your camping kit.  Please park at the top of camping field. Please don't keep cars in the camping area.
-----------------------------------------
WIDER HORIZONS 2022 WORKSHOPS*:
A TOOLBOX OF SELF AWARENESS TECHNIQUES. Examining the nature of reality and awakening and sharing creative consciousness. Athena Constantinou
CLIMATE CHANGE - WHAT DO YOU WANT TO DO? - This workshop explores how all of us can play a role in addressing the greatest threat facing our planet. Danny Gross, Friends of The Earth
CACAO CEREMONY - An opportunity to work with a plant medicine in a safe and held sacred space. Cacao opens the heart and facilitates expansion of awareness in order to move into right relationship with Self. Kristina Evans
THE WORK THAT RECONNECTS – discover and experience your innate connections with others and the self-healing powers of the web of life, transforming despair and overwhelm into inspired, collaborative action - Ben Gross and Georgia Francis
VEDIC FIRE CEREMONY - AGNI HOTRA - Learn a ritual to honour the rising and setting of the sun.
YOGA FOR EVERYONE - a gentle yet powerful awakening of the bodymind through breath work and mindful movement to encourage a heightened sense of aliveness, awareness, balance and wellbeing. All levels of practitioner will be warmly welcomed including complete beginners. Erika Tourell
WAND MAKING – Make Yew wands with crystals and copper wire and Yew from our 1000 year old yew tree. James Mermagen, Druid
YOGA NIDRA - a deeply relaxing, guided meditation done lying down to help improve sleep, reduce anxiety, increase awareness, enhance creativity, bringing nourishment, insight and healing.
CHANTING FOR CHANGE - Learn Mantra medicine and heart opening chants from the path of bhakti yoga, the devotional aspect of yoga. Changing the world from within with Vandita.
ACOUSTIC FIRESIDE SESSIONS – experience healing and prayer, singing sacred songs from around the world. Charlotte Mabon, Chris Park, Vandita, George Barker, Moshe Halperin, Ben Ben Ji and special guests to be announced!
Full details on website https://widerhorizons.events/contributors-and-workshops.../

* The programme may change.

-----------------------------------------
AGREEMENTS
Wider Horizons is a transformational gathering so we have established some agreements to which we hope you will adhere:
Be healthy – no alcohol or other drugs
Be hygienic – no dogs, bring your own water bottle, cup, bowl and spoon and keep them with you and keep them clean
Respect the land – no chemical soap (biodegradable soap will be provided at sinks, but please also bring your own for showering), if you light a candle you put it out, no personal fires, if you smoke please bring a portable ashtray, leave no trace (be conscious of where you put rubbish – there are different rubbish bins for compost, recyclables, glass and land fill), no cars in the camping area – you can drive on and drop off your kit where you'll be camping, but then please take your car to the car parking area which will be along the hedge close to the gate at the entrance to the main camping field.
Respect others – ask before you hug, no photography, no mobile phone use in the gathering area, no floor scores (if you find something take it to lost property), have a covid test before you come.
Give – Do at least one shift in the kitchen or site maintenance, no buying or selling
-----------------------------------------
GETTING THERE
LOCATION
Wasing Woodland, Wasing Park, near Reading, Berkshire. Full details provided with ticket.
We will run a shuttle service from Midgham Station on Friday between 10am and 12.30pm and Sunday from 5.30pm for anyone who has not met someone who's giving them a lift back.
Car parking space available on site at the top of the camping field.