---
---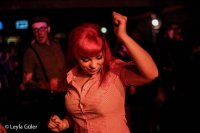 Last chance to dance!!!
It is with a great deal of pride we are announcing that the last London International Ska Festival will be taking place on next Easter (6th - 9th April 2023) to coincide with our 35th anniversary.
I have had immense time celebrating all things ska, rocksteady, reggae and 2 Tone across five decades and would like to thank everyone; bands, singers, crew, DJ's and fans alike for all shared love and support of the festival and music!
The 35th anniversary edition of The London International Ska Festival 2023 (6-9 April 2023) is set to be a very special, historic event, starring our favourite artists from over the years!