---
---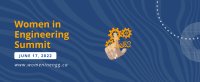 Theme for WES 2022 is "Allyship at the Forefront of 30 by 30"!
This is a jampacked event with fantastic speakers and two expert panels discussing the 30 by 30 initiative and equity, diversity and inclusion. There will also be three networking sessions throughout the day! Full agenda on our website: https://womeninengg.ca
There is no need to have a PayPal account, please click in "create an account" and you will have the option to pay with a credit card.
Prior to summit individualized Zoom links will be sent out for accessing event.