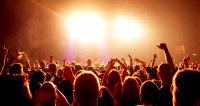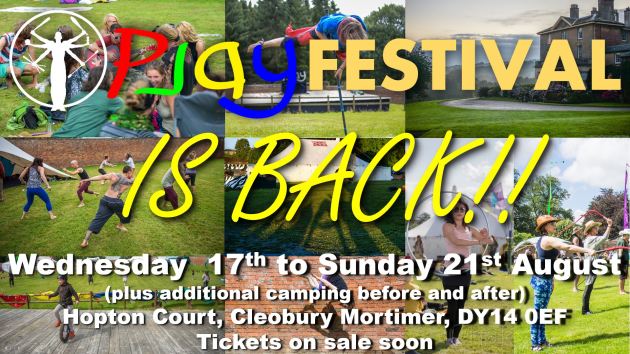 We've been eagerly awaiting this moment since Covid appeared on the scene....please join us for our next full festival celebrating our love for circus arts, creativity, and community.

We have 5 days of festival 17th to 21st August and options to extend your stay with additional nights camping before and after the main event. 
If you've been before or heard about us from friends you'll already know PLaY is about having lots of circus related fun accessible to people of all ages and backgrounds in a beautiful countryside setting, with shows every day, music from DJs and live acts, 200+ workshops donated by our wonderful customers and complementing our professional workshops; this year is no different except we're even more excited than usual to host the best little festival going!!
Our best friends Spinning@ will be travelling from London to bring their usual flavour of silliness, shenanigans and day-time chill out space in their wonderful tent.
TICKETS
We've worked hard to keep our ticket prices as low as possible and still deliver a sustainable event accessible for all people of all backgrounds and family sizes, but we can't guarantee everyone is able to attend. To help with this you'll see a donation button when you buy your tickets, these donations will go towards improving access to those who are facing the hardest social-economic challenges at the moment and help them and their families access the festival too. Suggested donation is £5, please spare what you feel comfortable with to help others less fortunate. 
There are also options for volunteering to earn back the cover price of your ticket with a little support towards running the festival either in setup phase, during the festival or on pack down. 
IMPORTANT NOTICE ABOUT ADDITIONAL CAMPING - 
The camping tickets can only be purchased to complement bookings for the festival itself, if you book camping tickets only expect to hear from us and note there is risk those tickets could be cancelled. Please don't hesitate to reach out to us directly if you have a specific need, concern, or just want clarity on what how to complete the booking. 
For families...please contact us directly so we can work out an additional camping package specially for your family's needs and size.
CONTACT US
Use the button at the bottom of this page to contact us directly.