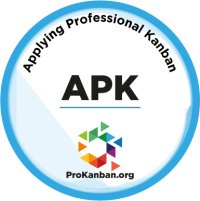 Why Should You Attend Applying Professional Kanban?

Kanban is fast becoming the modern way to manage an organisation's delivery of customer value. In today's always-on environment, you need a clear set of practices that do not get in the way.

Applying Professional Kanban will:
Generate a shared understanding of your work
Give you focus
Save you time
Answer the question, "How long will this take?"
The Applying Professional Kanban (APK) course will give you an in-depth introduction to improving your team's effectiveness by applying Kanban flow principles.
During the class, you will learn the basic principles of flow and how to use them to make your team process more efficient, predictable, and effective. With an emphasis on the practical application of concepts, this course includes many hands-on exercises that will lead you through the steps of setting up and operating a Kanban system for continuous value delivery and improvement.
Key Learning Outcomes:
Explain the basic principles of flow.
Describe the value of Limiting WiP.
Create a visual board to manage your work.
Capture and interpret key flow metrics and analytics to find improvement opportunities.
Explain why flow should be focused on value delivery.
Define, build, operate and continuously improve a Kanban system.
Discuss how tooling impacts your implementation.

What is Professional Kanban?
Kanban is a strategy for optimizing the flow of value through a process that uses a visual, pull-based system. There may be various ways to define value, including consideration of the needs of the customer, the end-user, the organization, and the environment, for example.

Kanban comprises the following three practices working in tandem:
Defining and visualizing a workflow
Actively managing items in a workflow
Improving a workflow
In their implementation, these Kanban practices are collectively called a Kanban system. The fundamental idea behind Kanban is that one of the best ways to optimize value delivery is to optimize process flow. In other words, how work gets done can be as big a component of value as what work gets done. (Source: https://kanbanguides.org/english/)

Who Should Attend

The Applying Professional Kanban course is for anyone who wants to improve their ability to deliver value and be more effective. Typical attendee roles include:
Business Analysts
Agile Coaches
Scrum Masters
Product Owners
Product Managers
Project Managers
Team Leads
Team Members
What's included

3 sessions of engaging, fun learning with like-minded people
Refreshments and lunch on the day of the in-person session
Token to take PK I Assessment
14 PDUs for Project Management Institute and 14 SEUs for Scrum Alliance
Access to the Actineo Newsletter
Access to the Actineo Slack channel
Invites to exclusive Actineo Events
Membership of the Actineo Alumni Network including 20% discount on future courses
Prerequisites
Participants on this class need to have read the Kanban Guide. No working knowledge of Kanban is required.
Session Details
Duration: The course delivers a total of 16 hours of learning. It is made up of 2 live virtual sessions of 3 hours each, 1 in-person session of 7 hours, and 2 pieces of intersession work of 1.5 hours each. All sessions - UK Time (GMT+1).

Pre-course preparation activities
Session 1 - Live Virtual - Mon 19 September / 2pm - 5pm
Intersession 1
Session 2 - In-Person - Mon 26 September / 9:30am - 5:30pm (Bristol, UK)
Intersession 2
Session 3 - Live Virtual - Mon 03 October / 2pm - 5pm
Format: Blended - 2 Sessions Live Virtual (Mural and Zoom) and 1 day In-Person (Bristol, UK).
Agenda:
Kanban in your workplace
Dispelling Kanban Myths
The WiP Game (TWiG) Kanban Simulation Round 1
Exploring Kanban
Visualisation Elements and Techniques
Elements of Workflow
Core Flow Metrics
Cycletime Scatterplots and Service Level Expectation
Little's Law and Flow Metrics
Actively Managing Flow
The WiP Game (TWiG) Kanban Simulation Round 2
The Implications of Kanban and Flow Thinking
Designing a Kanban Board
Work Item Design
Operating a Kanban System
Applying Professional Kanban

Your Instructors 

Professional Kanban Trainers: Jean-Paul Bayley and Jose Casal. Our trainers are amongst the most knowledgeable in the industry and are experienced teachers, facilitators, subject matter experts and coaches.

Jose Casal
Jose Casal is a business agility consultant & trainer with extensive experience. He is dedicated to helping organisations and individuals embrace modern management concepts including Flow Thinking, Kanban, Flight Levels & Scrum. Strongly motivated towards continuous learning and research, he is able to help organisations achieve better Agility. His goal is to create thriving and engaged organisations.

Jose's experience covers the full breadth of Agile approaches. He is a Professional Scrum Trainer (PST), Flight Levels Guide (FLG), Professional Kanban Trainer (PKT), Enterprise Kanban Coach (EKC) & Certified Trainer for Training from the BACK of the Room! (TBR-CT). He is a member of the International Coaching Federation (ICF). He co-founded Actineo Consulting LLP in 2015.
JP Bayley
Jean-Paul is a Partner with Actineo Consulting LLP. He is a business agility coach and trainer who is passionate about helping teams do their best work. He does this through training courses, workshops, and coaching. He has a strong technical background having worked for many years as a software engineer.

JP is a Professional Scrum Trainer (PST), a Flight Levels Guide (FLG) and a Certified Trainer for Training from the BACK of the Room! (TBR-CT). In 2017, with José Casal, and Andy De Vale, he co-created a self-coaching tool for teams called "The Kanban Guide". He has delivered talks at conferences in USA, UK, Ireland, and Germany.
Certification
The Applying Professional Kanban (APK) course is associated with the Professional Kanban I (PK I) certification by ProKanban.org. All participants completing the Applying Professional Kanban course will receive a password to attempt the Professional Kanban I (PK I) assessment . The industry-recognized PK I certification requires a minimum passing score of 85%. If you attempt the PK I assessment within 14 days of receiving the password and do not score at least 85%, you will be granted a second attempt at no additional cost.
Actineo provides a premium experience, more than just a training course.
With Actineo, you get more than just a training course. You get to work with world-class trainers who will help you explore the key learning outcomes and prepare you to apply them to your context. You will get tools and know-how to help you apply what you have learnt effectively and with confidence. Further, the course doesn't finish at the end of the class. You will have access to ongoing support & advice from the team at Actineo and you will be welcomed to join an active Alumni community of practitioners that provides a great forum for questions and discussion.
If you want a snapshot of what it feels like to attend one of our courses and get a better understanding of why we believe your next course should be with Actineo, then don't just take our word for it, this journal of a personal experience by one of our students is a must read.
We teach our courses in small groups to ensure every participant actively contributes, discusses their challenges and shares their stories. We deliver the class learning outcomes, but no class is the same.
What is Blended Training?
Blended training is a new concept that takes the best of Live Virtual training and the best of in-person training. Blended training is a learning experience that helps participants learn and retain the knowledge they pick up in class by providing spaced practice and socialisation.
Why Blended Training?
During the pandemic, we have seen first hand the power of Live Virtual training. Attendees retain information better because we space out their learning and have opportunities to practice what they learn in the work place in between sessions. They can then come back and discuss what they tried, how it worked, and ask questions about challenges they faced. What we seen that attendees miss is the water-cooler and lunch time conversations that ground their learning outside the walls of the classroom. So we've decided to run Blended Training so attendees can get the benefits of both formats.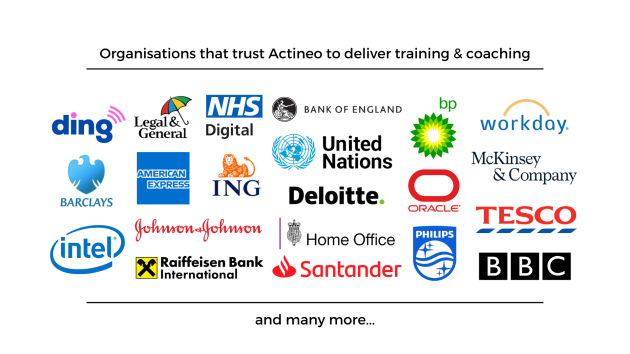 Summary
Duration: 19 Sept - 03 Oct, 2 x 3-hour live virtual sessions, 1 x 7-hour in-person session + 3-hours of inter-session work. All sessions - UK Time (GMT+1).
Maximum Class Size: Each class is capped at 12 attendees to ensure optimal learning.
Format:  Blended - 2 Sessions Live Virtual (Mural and Zoom) and 1 day In-Person (Bristol, UK)
Certification: PK I by ProKanban.org (after passing the exam)
Language: English (also available in Spanish)
Private Course Available: Yes
Terms & Conditions: https://actineo.xyz/terms/