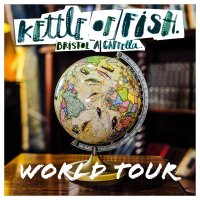 Bristol's very own leading a cappella group with a fish based name return to the Alma Tavern Theatre as part of their World Tour. Featuring Guest Star singers Ali Orbaum and Chris Samuel.
Having entertained audiences in the South West for the past 10 years with their quirky and harmonious vocal stylings, 'the fish' now take to the stage for a world tour of songs from all corners of the globe (how many corners does a globe have anyway?). Paolo Conte, Hilario Camacho, Joe Dassin, Johnny Cash, Mohammed Rafi and other lesser known artists will be thrown together for a multi-cultural jam of epic proportions.
At times strangely beautiful, at other times beautifully strange and often just silly, this is a night of global a cappella wonders.
Kettle of Fish are David Yapp and Adam Barber (arrangers), Neil Bett, John Drowley, and Jorge Sved.
"One word - Brilliant !"
"A really great evening of beauty, comedy and originality all in good measure! Loved it"
All tickets include a £1 transaction charge
Approx running time 2 hours (including interval)
All purchases for show at the Alma now have a suggested donation to the theatre and inhouse company of £2.00
You can remove this donation by changing the amount to £0.00, but please do consider offering your generosity to help us continue to offer great theatre at affordable prices.
The Alma Theatre has been serving the community for 25 years and has never been the recipient of ACE or other funding and were unable to secure the Covid Arts Recovery Fund. We have been offering reduced rates, preferential box office splits and extended promo support to aid the recovery from the past year and a half. Your help will enable us to continue bringing fantastic stories to your local theatre. 50% of your donation will go to the Alma Theatre, and 50% to our inhouse company, Schoolhouse Productions.