---
Buy tickets
Ticket Type
Price (£)
Fee (£)
Quantity
---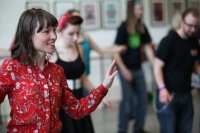 Level 3 Lindy Hop Classes 6 Week Course
This course will work progressively from Level 2, using the skills that you have gained and improving these further. In this level you will learn many more authentic lindy hop moves but be looking to refine your technique of the Swing Out and many other Lindy hop foundation moves. We recommend this course for dancers who have progressed from the Level 2 course, and also dancers who have been dancing for longer and are looking to strengthen their overall technique. Please get advice from our experienced teachers before booking onto this level so we can advise you if it's the right level for you.
When: This course runs on 6 consecutive Thursdays (6 weeks total). See event info for starting date.
Where: Moseley School Sports Centre, Springfield Road, Birmingham, B13 9LR
Cost: £44 for 6 weeks
Time: 18.45 - 19.45
Be sure to select the correct "lead" or "follow" ticket. If the tickets are sold out, drop in classes on Monday night are still available.
Do you need to know, what is Lead and follow, what to wear and bring to class (such as indoor shoes), or any other questions then please visit our FAQ's page.
Terms & Conditions: Tickets are non-refundable.