---
Buy tickets
Ticket Type
Price (£)
Fee (£)
Quantity
---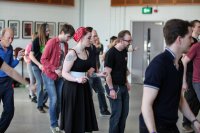 Level 4 - Lindy Hop classes, 6 week course
This is the highest level Lindy Hop course that has ever started here in Birmingham and the Highest Level that The Swing Era offers. We will expect that you will have completed Level 1,2 and 3 of our other Lindy hop Levels before entering the Level. Unless stated by one of our skilled teachers please don't book onto this course or we may ask you to do a lower level first and work your way through. In Level 4 we will work progressively from our Level 3 course to really progress your dancing up to a higher level. In this level you will learn more advanced authentic lindy hop moves (swing out variations, switches, and so on).
When: This course runs on 6 consecutive Thursdays (6 weeks total). See event details for starting date
Where: Moseley School Sports Centre, Springfield Road, Birmingham, B13 9LR
Cost: £44 for 6 weeks
Time: 20.00 - 21.00
Be sure to select the correct "lead" or "follow" ticket. If the tickets are sold out, drop in classes on Monday night are still available.
Do you need to know, what is Lead and follow, what to wear and bring to class (such as indoor shoes), or any other questions then please visit our FAQ's page.
Terms & Conditions: Tickets are non-refundable.