---
---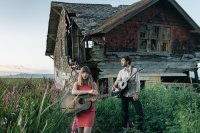 Vivian Leva & Riley Calcagno return to St Davids following their triumphant gig back in 2018. Two of the brightest young talents on the USA roots music scene are based in North Carolina and combine old time Americana, folk and bluegrass, with compelling songs, gorgeous harmony singing and exquisite musicianship on acoustic guitars, fiddle and clawhammer banjo. The duo's debut album was released in 2021, produced by acclaimed Grammy-winning Cajun musician Joel Savoy, and was included in many year-end best-of lists.
Vivian Leva grew up in Virginia, going to fiddle festivals with her parents, both acclaimed roots musicians in their own right. At nine years old she began writing songs and performing with her father James Leva. Her debut solo album (which also featured Riley) was released in 2018 while she was still a college student. That same year, Vivian was named in Rolling Stone magazine as one of the top ten country artists to watch. Her songwriting style shifts effortlessly between traditional ballads, classic old time country and contemporary Americana.
Riley Calcagno has also been immersed in traditional music from an early age. Originally from Seattle, he learned fiddle directly from old masters of the style and is also accomplished on banjo, guitar and mandolin. Riley is a founding member of The Onlies, an acclaimed young stringband formed in 2006 when he was just eight (Vivian joined the quartet in 2017). Riley is a graduate of Oberlin College & Conservatory, and has performed with musical luminaries including Rhiannon Giddens, Bruce Molsky, Altan and Dirk Powell, to name just a few.
The pair received an incredible ovation after their mesmeric set last time around, expect more of the same!