---
---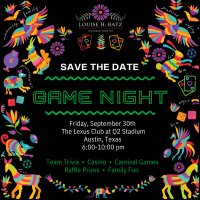 We're back for our 2nd GAME NIGHT fundraiser for the Louise H. Batz Patient Safety Foundation! Make plans now to join us on September 30th at the Lexus Club at Q2 Stadium in Austin, Texas. We are excited to gather with our community and are thrilled to once again have Brian Balthazar as emcee. Brian is known for launching the fourth hour of the Today Show and frequently leads pop culture and game show segments on the Today Show. Brian will host a night of fun including trivia for cash prizes, carnival and casino games, raffle, and silent auction items.

Each year in this country, roughly 200,000 people die and another 2 million fall victim to preventable medical errors during their stay in the hospital. These numbers make preventable medical errors the third leading cause of death in the United States, and they cost the healthcare system billions of dollars each year. The Louise H. Batz Patient Safety Foundation was founded in May of 2009, ten days after Louise Batz lost her life to a preventable medical error. Since that day, we have gone on a life-changing journey from tragedy to hope!

Our mission is to help families and patients to truly become a part of their healthcare team and reduce the number of preventable medical errors. Over the past 12 years, The Louise H. Batz Patient Safety Foundation has raised over $2.9 million for patient safety, published 10 unique "Batz Guides for Bedside Advocacy", developed our Batz Patient Guide Apps, established the Batz Foundation Europe in Amsterdam, and shared Louise's story across the United States, Canada, Europe, and South America.
With your help, the funds raised from GAME NIGHT will support these goals that further our mission to create awareness of patient safety, both locally and internationally:
Develop an innovative web-based video series promoting a wide range of educational topics in patient safety using the 10 Batz Guides that we have developed over the past 12 years.

Print, implement and research the effectiveness of our Weezie's Angel NICU Guide for babies

Develop a Pediatric Palliative Care Guide with the Gus Owen Stephen's Foundation

Expand our Community Health EMPOWER program aimed to help low income families

Develop and grow our Rosie's Art Project initiative in honor of Rosalyn Dugger Bowers

Continue to expand Batz Foundation Europe and launch Batz Foundation Latin America.
YOUR SPONSORSHIP WITH MAKE THESE GOALS A REALITY! If you have any questions or want to learn more, please feel free to contact Laura Batz Townsend at laurabtownsend@gmail.com. Thank you for considering supporting the Louise H. Batz Foundation. We hope to see you in September!