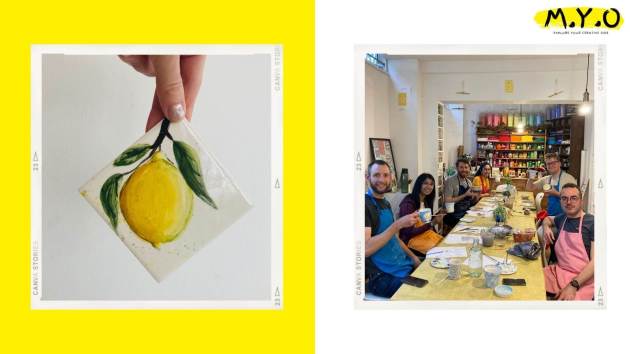 Join us in this relaxing pottery painting class in our colourful studio in Central London - no experience required and it's BYOB! Tea and coffee also provided. You'll have a wide variety of ceramics to paint - mugs, bowls, plates, tiles and ornaments, that'll liven up any home, desk space or loo.

There will be a selection of patterns and designs (or you can bring your own) and you'll be shown a nifty way to transfer patterns and designs onto your ceramic piece, after which you'll paint it, whilst also seeing a few different styles of painting - so you will be able to paint whatever you like!
You'll leave having painted some fantastic ceramics for you or as a present! You'll also feel the proven mindfulness benefits of being creative - it is amazing!
Check out our Facebook album to see what pottery painting people have done. Also check us out on Instagram.
All M.Y.O workshops are BYOB (you can bring your own alcohol, we provide the glasses) or you can request a tea or coffee from the host.
Please allow 14 working days for glazing and kiln firing of your ceramic pieces - after which your pieces will be ready for collection!
If you're not sure you can always buy the gift of creativity for yourself or someone else here :). New classes and dates regularly announced. 
Please note: No refunds within 7 days of class, we will transfer you to a future class.

We also host creative birthdays, hen parties, team building days and brand / PR / influencer events, get in touch if of interest.
P.S Don't forget to join in with our monthly competition and win up to £80 worth of M.Y.O creative stock or classes! Details can be found here: https://www.myo.place/creative-makers-competition