---
Buy tickets
Ticket Type
Price (£)
Fee (£)
Quantity
---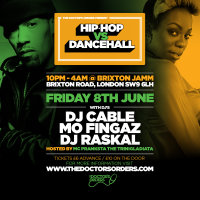 The Doctor's Orders present
HIP-HOP vs DANCEHALL
10pm-4am 2nd Friday of Every month
Brixton Jamm, 261 Brixton Rd, London SW9 6LH
£6 advance || £10 on the door

CHARLIE DARK
MO FINGAZ
DJ RASKAL
& host PRANKSTA the Trini Gladiata
For the past few years Hip-Hop vs Dancehall has been packed to capacity month on month becoming London's most exciting party.
Now a montly affair at Brixton Jamm it is had become the go to rave with the best line up of residents in the UK spinning everything this brand new dubs to classic floor-fillers.
Kiss FM's Shortee Blitz is one of the best loved DJs in the country that has rocked every club in the country and every country with a set of decks. Charlie Dark warms the party up right each and every time with a his killer selection of Dancehall 45s.
Keeping this live till the wee hours every month are Mo Fingaz and DJ Raskal who tear through all your favourite bangers from the wolrds of Rap and Bashment leaving our friendly crowd in a sweaty mass of smiling faces.