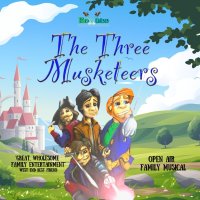 Boxtree Productions Present: 
THE THREE MUSKETEERS
Venue: Sheep Pen Open-Air Theatre, Bolton Gate Farm 
Running Time: 2 hours 15 minutes (including interval) 
Tickets: £15 Adults, £10 Concessions. Children under 2 years old go free. 
Young D'Artagnan comes to the big city with one aim: to follow in his father's footsteps and become one of the King's Musketeers. When he gets to Paris he meets three of the Musketeers; Athos, Porthos and Aramis. With his new-found friends he must prove himself and try to stop the evil plans of Cardinal Richelieu and the mysterious Milady, but will he do enough to earn his place as a Musketeer?
All for one and one for all!
This family friendly musical will be an incredible mix of amazing adventure, magical music, comical characters and swashbuckling sword fights. The whole family will be entertained, from the youngest to the eldest and we will give you an experience you'll be talking about for years to come! So, pack up blanket or a low backed chair, order your refreshments from the Bolton Gate cafe and join Boxtree Productions in the open air for this wonderful show. Your buckle will have never been so swashed!
For more show details, head to boxtreeproductions.co.uk/
Please bring your own seating/picnic blankets.
Please be advised tickets for this event are non-refundable. In the instance of event cancellation we will offer a refund or exchange.