---
---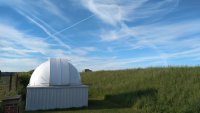 Please book the number of adult and child tickets required for your visit to the observatory.
Child ticket relates to a person aged between 8 - 16 years, adults are people over 16 years.
(it is not recommended that children under 8 yrs attend these visits).
Please do not try to book for more tickets than are available for that evening/event - you will not be able to.
Please bring your Ticket Tailor reference booking number with you (you can print out the booked page if it is easier),
this should be shown to staff on the observatory gates when you arrive.
For groups of more than one person, your party will be booked under the name of the person who has booked and paid for the tickets.
If your party is arriving separately please advise members of your party of the name under which their visit is booked.
We hope you will enjoy your visit to us at the Clanfield Observatory and will visit us again soon.

Hampshire Astronomical Group is based in Clanfield. If you have SAT NAV put Hampshire Astronomical Group in Search and that will take you to the Observatory gates.
Minimum Age 8 Years Old